Spring officially made its debut last week, ending what seemed to be an eternal (and especially nasty) winter. But those of us who know Cincinnati recognize that we're in for a rollercoaster weather pattern of warm/cold, sun/snow for the next month. If that makes you feel a little melancholy, then we invite you into our Kenwood Towne Centre store, where spring has most definitely sprung.
Our team has created gorgeous displays of spring finery and seasonal color that will cure  the worst case of the winter blahs. Among our favorite home and table decorating trends this season:
Botanicals are big. Perfectly in time for spring, we're seeing lots of merchandise with flowers and leaves. We have a lovely assortment of products from Michel Design Works — soaps, towels, trays and accessories — in two botanical patterns: earthy vegetable garden and bold floral garden. We're also featuring items in what we call "veranda style:" bright green fern and leaf patterns that recall a quiet Southern patio. If you love bold color, our collection of TAG tabletop pieces in floral-patterned glass bring pop to your decor.
Color is hot. You'll discover lots of pastels in our store now — soft purples, pinks and robins-egg blue. But color isn't just on the pale end of the spectrum. We've added a new collection of boldly colored serving bowls in recycled glass from Cypress Home; they're great for dishing up salad for a weeknight dinner or snacks for a party. We also love the collection of colorful African-inspired woven baskets from Two's Company.
Texture is trendy. Speaking of woven … texture is a key decorative element this spring. Our store buyer discovered a new line of ceramic vases from Tozai Home, with glazed pom-poms covering the surface for an intriguing look. The "Waves" vases from Two's Company combine two spring trends: bright color and unusual sculptural shapes. You can add a rustic quality to your table with scallop-edged wood-veneer chargers from Two's Company. For a more traditional look, Nachtmann's Bossa Nova collection of crystal serveware has an elegant basketweave texture.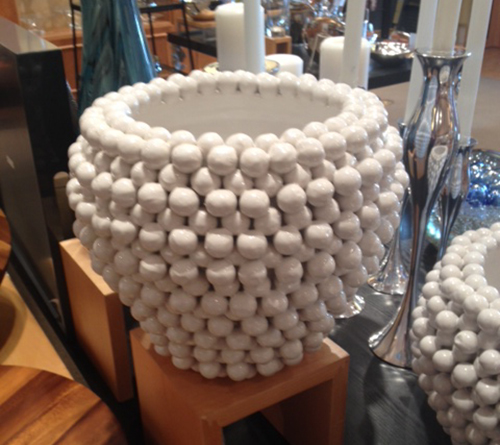 For your holiday table. Food, family and faith are at the center of spring's two celebrations: Easter (April 20) and Passover (April 14-22). So you'll want to create a table that's special. You'll find decorating ideas that range from whimsical (bunnies and eggs) to beautiful (crystal stemware and spring-patterned table linens).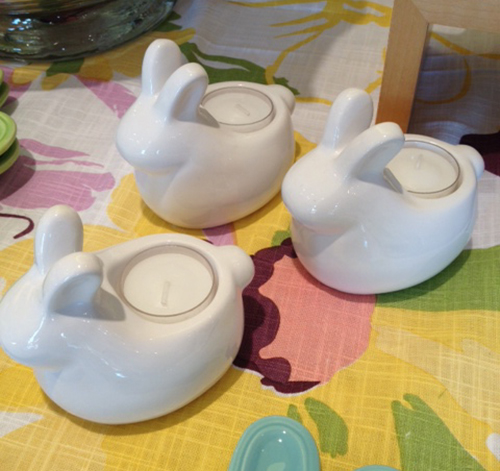 For you. If you're like us, you're tired of the black winter coats and heavy, dark sweaters. In these transitional days, a scarf is the perfect personal accessory to add warmth and a pop of color. We've upped our collection of scarves in pretty colors and patterns. And we're especially loving the soft knit scarves from Noelle — they button at the edges to create a simple poncho-style wrap, and at just $19, they're our favorite spring wardrobe find.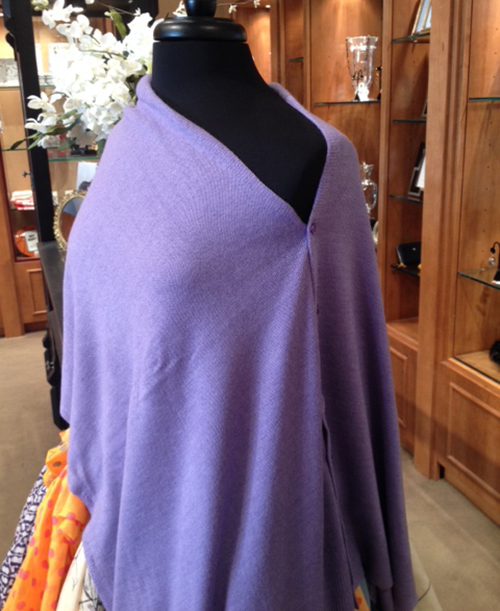 Visit our Kenwood Towne Centre store for all kinds of spring decorating ideas — or just, you know, to get out of the cold.
The first big special-occasion holiday of the year — one that involves gifts, decorations and a beyond-the-ordinary kind of meal — is upon us: Valentine's Day is here! And it falls on a Friday this year, making for an even more festive celebration of love, romance and relationships.
Valentine's Day can sneak up on our calendar, and it's easy to settle into the same box of chocolates and bouquet of roses that you exchange every year. Take a few minutes now to plan something a little different. Our Annual Clearance Sale at our Kenwood Towne Centre store — going on from February 7 to 22 — can help you celebrate with perfect gifts and decor, all at great savings.
Here are some of our favorite fun ways to celebrate Valentine's Day:
Serve your sweetheart in style. Who cares if it's a work day? Start off right with breakfast in bed — even if it means dishing up the usual cereal, coffee and toast — on a pretty tray with the good china and glassware. We love the patterned lacquered trays from Rock Flower Paper; their square shape is perfect for serving a small meal.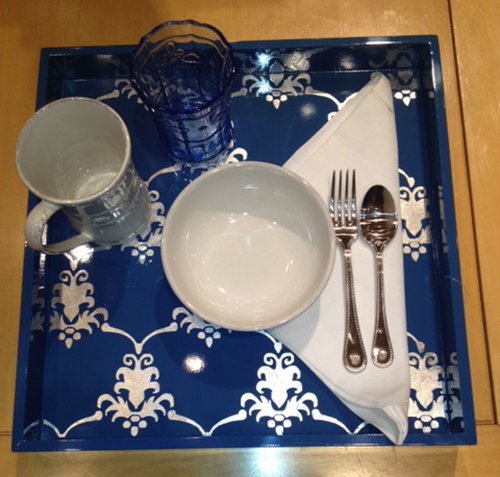 Preserve a memory. You know that sweet snapshot you have of the two of you on vacation last summer? Pop it into a silver frame he'll want on his desk. Mariposa's square frame with a heart-shaped cutout is cute — but not too.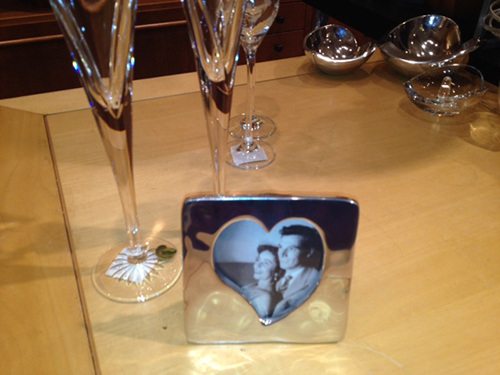 Make the wrapping part of the gift. Chocolates. Flowers. Who doesn't love them? But unless you make them special, they're a bit cliche as far as Valentine's Day gifts go. Present some artisan chocolate truffles in a heart-shaped bowl: We carry several options, from designer Beatrice Ball's hammered aluminum bowl to Nambe's heart-shaped dish in polished crystal. Choose a faceted crystal bud vase to present a single red rose.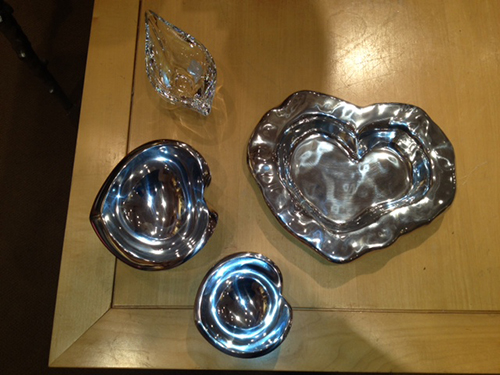 Light a fire. Our store buyer brought in some lovely heart-motif candles, in a delightful scent, just for the holiday. Arrange a grouping of tea lights on the dining table to create an intimate, starry atmosphere for the two of you.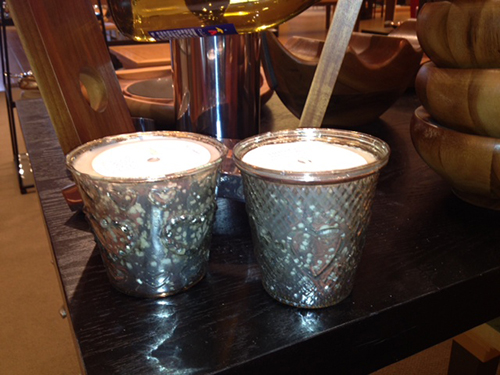 Raise a glass. Add a single, ripe, fresh raspberry or a twist of lemon peel to a glass of Champagne (or California sparking, cava, prosecco or other bubbly beverage of your choice). You know we have lovely Champagne flutes in a range of styles of cut and polished crystal.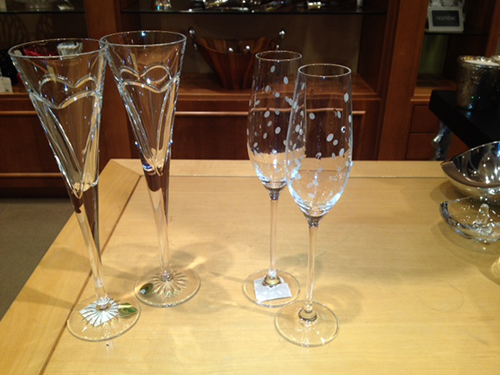 Celebrate with the kids. Instead of (or in addition to) sharing a romantic dinner for two, why not invite the kids? Set a fancy table for dinner, pour them some sparkling grape juice and share a toast. As a fun gift, we have ceramic piggy banks with a pink and red heart motif that the little ones will love.
Take advantage of the Annual Clearance Sale at our Kenwood Towne Centre store to shop for gifts and decorative items — and use your savings to buy a nice bottle of bubbly for your sweetie!
If you're like us, no matter how organized we are with gift lists and shopping gameplans, we always manage to forget someone. Maybe it's a small token of thanks for your holiday party hosts. A little something for your brother and sister-in-law who just announced plans for a visit. Or a gift for a teacher or babysitter.
Using this final pre-holiday weekend to find a few important last-minute gifts? Make our Kenwood Towne Centre store your one-stop place for shopping; we still have a fantastic selection of great presents in all price ranges to choose from.
We've browsed the store to find some excellent recommendations for small gifts for everyone on your list. They'll never know you waited until the last minute.
Cookware. We now carry Nambe's Gourmet CookServe cookware starting at $50!  This amazing stainless steel cookware is oven and dishwasher safe and so elegant it goes from stovetop to table serving!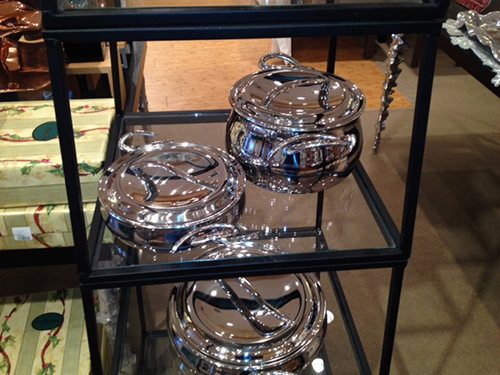 Christmas ornaments. Of course, the Sterling Cut Glass limited-edition 2013 etched crystal ornament makes a great gift and addition to your family's collection.  Additionally, if you are looking for ornaments of varying shapes and materials, stop in the store and pick up your ornaments off of our giant trees.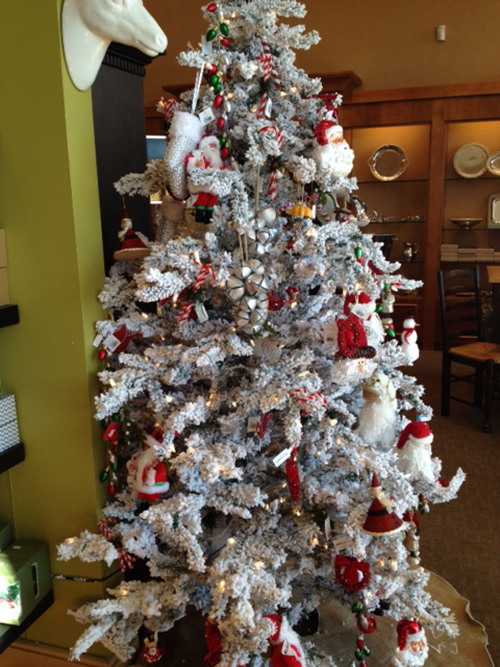 Fashionable Accessories. If you've waited until the last minute to pick up a gift for your favorite lady, no need to fret- we've got you covered.  Stop into Sterling and pick up one of our beautiful scarves or a piece of our unique jewelry- we have both holiday and non-holiday pieces to pick from!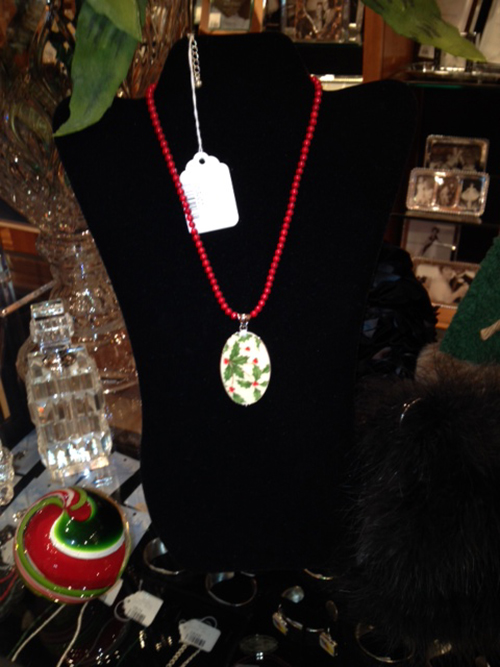 Gifts for the table. Another ideal present for your hosts: Attractive and functional items for the table. We're keen on Michael Aram's gorgeous designs: His serving trivet in the Olive Branch pattern comes boxed as a welcome gift.  Or pick up a Nambe Salad Bowl set.  Both of these gifts are great last minute since they come gift wrapped!
For the kitchen. These things are flying off the shelves this season: Charles Viancin's super-handy silicone lids that fit tightly on any dish. In fun holiday designs, these are great gifts for the cooks in your life.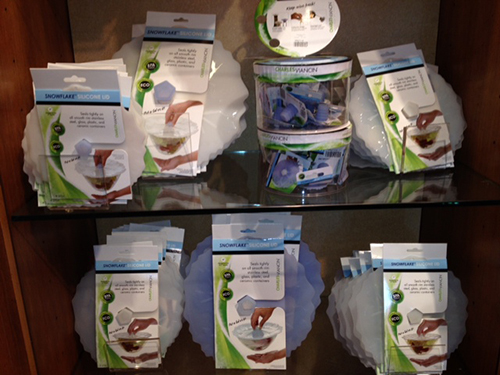 For even easier giving. Our store elves have pre-wrapped a selection of giftable items in our exclusive 2013 Holiday Collection of crystal stemware, barware and serving pieces — all etched with our festive graphics. Let us make it easy for you!
Stop in our Kenwood Towne Centre store to find all kinds of appealing last-minute gifts in all price ranges. We can wrap your gift for you! Plus, we've taken markdowns on a large selection of holiday merchandise! Additionally, now through Sunday, December 22nd you can take an EXTRA 20% Off your Total Purchase! We'll be open for extended shopping hours:
Friday, December 20  9:00 a.m. to 10:00 p.m.
Saturday, December 21  8:00 a.m. to 10:00 p.m.
Sunday, December 22  10:00 a.m. to 9:00 p.m.
Monday, December 23  9:00 a.m. to 10:00 p.m.
Tuesday, December 24  8:00 a.m. to 6:00 p.m.
We've "decked the halls" of our Kenwood Towne Centre store with sparkly, shimmery seasonal items to dress up your home and table this holiday. Whether your style is traditional or modern, refined or whimsical — we have the perfect details you can incorporate with your existing pieces to create a look that's "just right."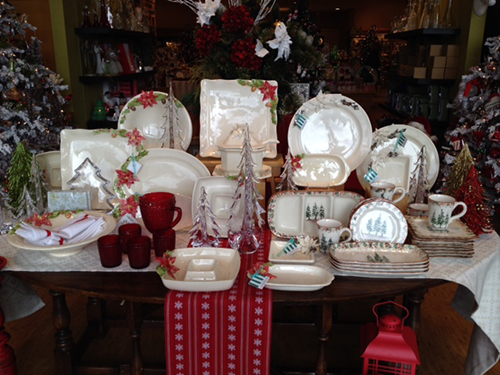 We wanted to share some of our favorite decorating ideas from our Kenwood Towne Center store right now; we think you'll love them too!
Unconventional trees. Our Kenwood Towne Centre store is a veritable forest of trees: fuzzy feather trees in traditional red-and-green and pretty pastels; cones of glitter-bedecked natural vine; shimmery leaf-and-berry trees, even modern ones with muted globe lights at the tips of the branches. These trees range in height and are great for decorating a mantel, shelf or large dining table.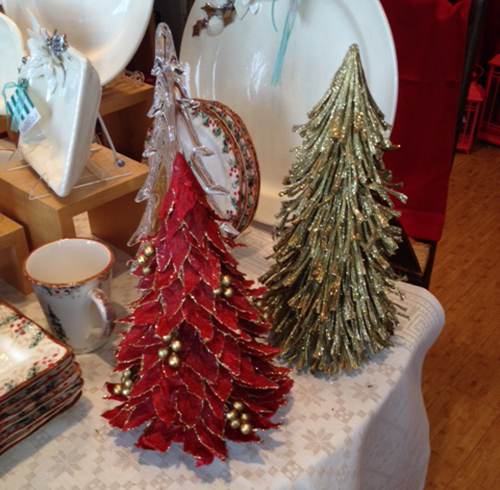 Winter wonderland. Your home and table decor doesn't need to overtly reflect a Christmas theme: Winter colors and motifs are quite popular this season. We're loving Arte Italica's Marletto Antique stoneware serving pieces with beautiful snowflake embellishments; they're both attractive and functional (they're oven-safe). Shiraleah's plates in pewter or ruby Turkish glass with a pressed snowflake pattern are perfect for serving small bites.
Whimsical accents. Small decorative pieces — at great price points — make it easy to add holiday flair to your existing decor. Incorporate our seasonal welcome mats, fun ceramic wall plaques and throw pillows, and hang a jingle-bell wreath on a door. We admire the collection of serveware with bright, graphic leaf-and-berry and red cardinal designs from lifestyle brand Tag — they're great for parties.
Sparkle and shine. Shimmery pops of gold and silver will brighten your home and table through the holidays and into the New Year! This classic color scheme works beautifully with your existing table settings and decor. Set your holiday table with your finest dishes and silverware; add etched crystal wine glasses from our exclusive 2013 Holiday Collection, polished-silver serving pieces (we can't get enough of Mariposa's classic String of Pearls design), glitter-dusted mini trees — and, of course, tons of candles.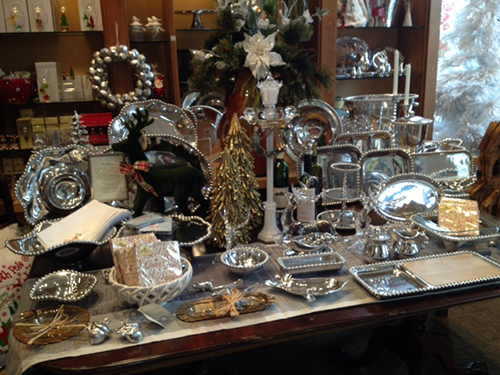 Visit our Kenwood Towne Center store and let us help you dress your home and table in holiday finery! Our seasonal collections are selling briskly, so stop in soon for the best selection. And keep an eye out for our final newsletter of the year, packed with great last-minute gift ideas.
If you haven't been into our Kenwood Towne Centre store, you should absolutely come by … our sales team has created a gorgeous setting of home decor, festive seasonal items and terrific gifts. Our annual Pre-Holiday Sale runs through Sunday, November 24, so you still have time to save on this year's giving and decorating.
As you're making plans for that big Black Friday shopping excursion the day after Thanksgiving, be sure to bring your list in and let us help you find all kinds of unique and special items your family and friends will love. We open at 6 a.m. on Friday, November 29.
Are some folks on your list a little, um, hard to shop for? Here are some of our favorite gift items in the Kenwood Towne Center store right now; we think you'll love them too!
For the wine lover. Connoisseurs can be picky about the wines they drink. Instead of choosing a Cabernet, give your wine-loving friend or relative something to help them enjoy their favorite vintage. Mariposa's wine coaster and stopper in hand-crafted aluminum with their classic String of Pearls design come boxed together in a lovely set. Or consider a set of 4 crystal wine stems — either monogrammed or etched with our 2013 exclusive holiday designs.
For the animal lover. We've created a whole Christmas tree gloriously stuffed with all kinds of animal- and bird-shaped ornaments, from adorable felt mice to blown-glass owls to woodland critters made from natural materials like moss and pinecones. If you have a dog lover on your list, you'll have to check out Mariposa's Woof Woof collection: the retriever-shaped salt-and-pepper set is a howl.
For the hard-to-please guy. Seriously, why are the men in our lives so hard to shop for? Here's a no-fail gift he'll love: a set of 4 crystal rocks glasses monogrammed or etched with our festive holiday designs, and a bottle of his favorite spirit.
For the all-out Christmas enthusiast. You know this person: She goes all-out every year, decking every nook, corner and hallway with holiday finery. Indulge her passion with one of our adorable Santas. We love Silvestri's shaped glass Santa plate (perfect for cookies). Our beautifully crafted Santa figurines have incredible detail, and they're made by Santa's Workshop in Hubbard, Ohio. Or give your Christmas-happy friend a lighted Santa by Beadworx; it's great for a shelf or mantel.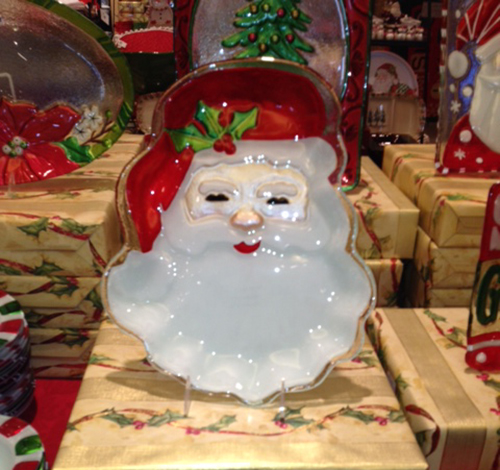 Start planning your holiday gift-giving now, stop in during our sale through November 24, and be sure to visit our Kenwood Towne Center store on Black Friday — we're open from 6 a.m. to 10 p.m. You'll find unique and memorable gifts at great prices for everyone on your list!
Mark your calendar: Our annual Pre-Holiday Sale starts on Monday, November 11 and runs for just 2 weeks (it wraps up on Sunday, November 24).
We've been hard at work turning the store into a wonderland of home decor, beautiful gifts for everyone on your list and perfect accessories to make your holiday meals truly special. Do your holiday shopping during the sale, and you'll enjoy 20% discounts throughout the store!
This is our most important sale of the year, when we offer great savings on nearly everything in our Kenwood Towne Centre location. That includes our most popular vendors (sshh … we can't name names) and our most sought-after items. And yes, it includes our entire line of custom monogrammed stemware, serveware and gift items—which are discounted only twice a year.
Even better: Our exclusive Sterling Cut Glass holiday collection is also 20% off. The 2013 collection includes all-new designs that range from traditional to whimsical to a little bit modern. Here's a sneak peek at some of our favorite holiday exclusives:
With festive lettering and a paisley Christmas tree, our Merry Bowl just begs to be filled with candy. (Red and green M&Ms, anyone?)
The Sentiments wine glasses and highball glasses (in sets of 4 with one of each design) are etched with exuberant holiday expressions: Jolly, Jingle, Holiday and Cheer. They add a little extra sparkle to any party and make great gifts.
Aunt Mary's famous bourbon balls deserve a pretty serving tray, and we love the etched text on our square Rudolph Plate for serving sweets and savories.
The sweet little Medford Pocket Vase etched with our hanging ornament design is perfect for holding candy canes or red roses. It's a great gift for a co-worker or teacher.
We celebrate our hometown with a commemorative Cincinnati Skyline design that's graced by a string of holiday lights. Find it on a cut-crystal ornament or our crystal Nappy bowl.
And of course, our best-selling Limited Edition Ornament: a Sterling customer favorite for many years. The 2013 design  … Our Baby's First Christmas ornament features a sweet skating snowman.
Bring your gift list, your decorating to-do list, your holiday wish list … and whatever other lists you have … to our Pre-Holiday Sale at the Sterling Cut Glass store at Kenwood Towne Centre, November 11th through the 24th.
Is it just us, or has October really snuck up on everyone else, too? It's hard to believe that Halloween is about 2 weeks away, with the fall and winter holidays soon to follow.
The shift in temperatures and onset of color in the trees have us thinking about creative ways to update our home decor for fall — small touches that have a big impact. This season, we're seeing a trend toward warmer, subtler designs than in the past. You can incorporate these ideas to bring a festive harvest or Halloween flair to your home.
We've scouted our Kenwood Towne Centre store to share a few of our favorite fall finds:
Great pumpkins.
We're loving our collection of gorgeous blown-glass pumpkins with bright green stems. They're pretty and not at all kitschy, and they look great on a table, bookcase or mantel. If you're looking for whimsy, we have a fun selection of jack o'lantern plates and mugs, perfect for serving Halloween treats and hot cider.
Fall botanicals.
Acorns, oak leaves, pumpkins, sunflowers — nature has a bounty of beautiful elements for decorating. Tuck an oversized topiary form made of woven twigs and filled with lightly scented potpourri onto a shelf. We also like the fall motif of My Evergreen's amber bubble-glass serving pieces with bronzed maple-leaf accents; the bowl and two different party servers are nicely priced.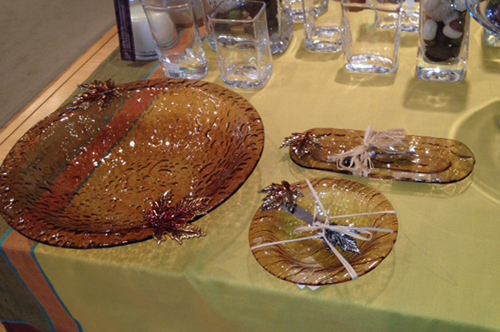 Seasonal linens.
Switching up your table linens is an easy and inexpensive way to freshen your dining room for fall. Our woven Provencal table cloths boast a warm, seasonal color scheme of golds, greens and browns. Or go for something slightly more textural, with a leaf-patterned runner with embroidery or beadwork.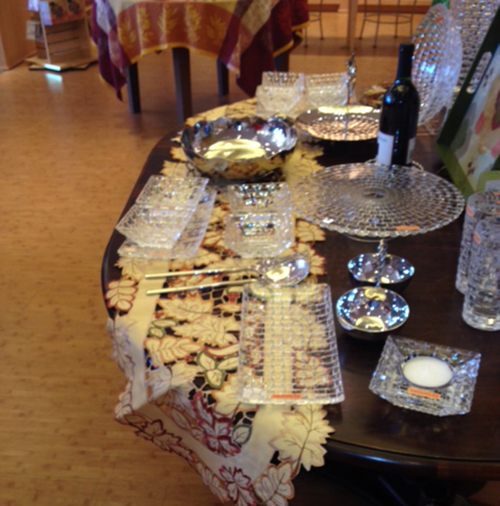 Pattern and color.
Ikat and other traditional Indian patterns aren't normally associated with a particular season, but the square trays from Rock Flower Paper blend ethnic patterns and fall-friendly colors. These have tons of uses, from decorating your coffee table to serving drinks at a party.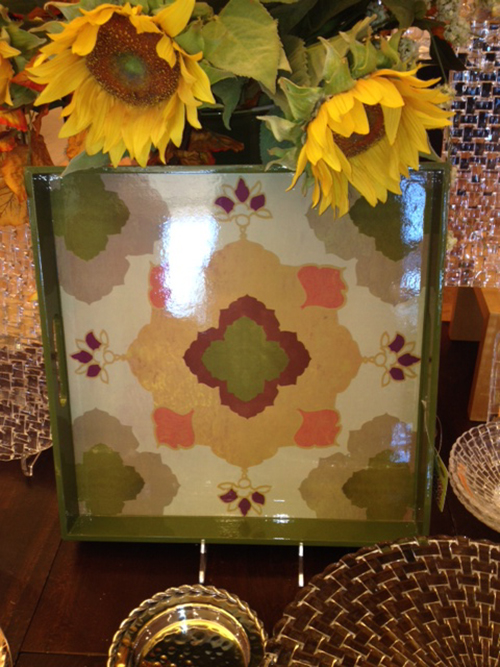 Warm woods.
Rich wood tones seem especially at home in the fall. Nambé's wood-and-metal serving pieces add a warm and rustic touch to kitchen and table. The big salad bowls are also great for displaying apples or pomegranates, fall leaves, stems of bittersweet and other natural elements.
If your home could use a little style transition between summer colors and holiday decor, stop by our Kenwood Towne Centre store and let us show you how to bring fall from outdoors to in.
October Monogram Special: The Sophisticate Wine Decanter
Red wines — especially bold, complex ones — improve in flavor when they're decanted before serving. Our Sophisticate decanter is classically stylish — and it's a great way to serve water or iced tea for family meals, just for fun! In October, choose your monogram style and take 20% off (monogramming included).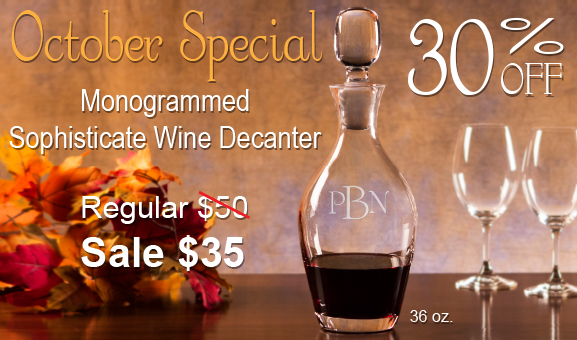 With fall upon us, your family's probably settled into a weekly routine of school, sports, work and activities. Ever feel so overprogrammed or overwhelmed that the thought of gathering the family for dinner — all of them, all at once — seems impossible?

You know how meaningful family meals are. Here's the good news: Americans are getting better at this. According to a report released in November 2010 by the American Dietetic Association, 73% of families surveyed eat together every day, up from 52% in 2003.

Still, making time to plan, prepare and actually eat a meal together can be challenging. Since we love the idea of gathering the clan around a beautiful table and sharing good food, we wanted to suggest some ways to make it easier.
MAKE IT A PRIORITY
Dinnertime is when everyone can take a breath after a busy day. Start by choosing one day a week when you can commit to eating dinner together. Put it on the family calendar. Expect that everyone will be there, no excuses.
MAKE THE TIME
That hour around the dinner table is crucial for parents and spouses. Kids open up about what happened during their day. Partners can have meaningful conversations. Studies have shown a correlation between family meals and kids' mental and physical well-being — primarily because it's a stress-free opportunity for kids and parents to talk. So carve out at least 45 minutes for dinner. Set a nice table. And turn off the TV.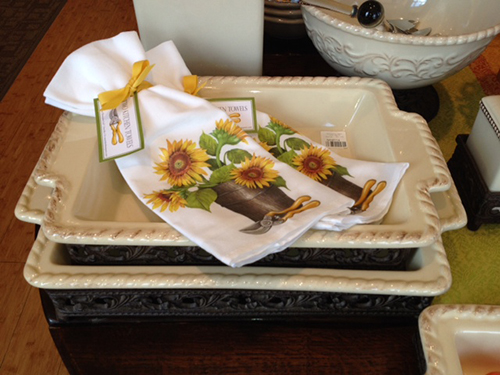 MAKE PREP EASY
Cooking dinner is time-consuming. Make it easier by planning a full week at a time, shopping just once a week and creating menus that provide leftovers that can be used in a different way. For example, one night's grilled steak becomes the next night's steak salad. Casseroles are super easy to make ahead. We love the baking dishes from GG Collection and from Mariposa, which go from oven to table in style. A big pot of soup is another in-advance, multi-meal option. We carry individual soup crocks from Juliska that turn veggie soup or chili into a meal.
MAKE IT SPECIAL
Create an atmosphere of specialness around family dinner, so no one wants to miss it. Bring out the good china on a Wednesday evening. Roast a chicken (easy to do, and pretty impressive) and serve it on a big platter — we like the wooden version by Chubco or the beautiful turkey platter by Juliska. Light candles. Use linen napkins.
MAKE IT COLLABORATIVE
Invite younger kids to help plan dinner menus and older kids to help prepare the food. Making a salad is a super kid-friendly kitchen task, especially when you have them tear lettuce and slice tomatoes into a big Nambe wooden salad bowl. Getting kids involved is a great way to teach them to respect food and to learn to cook.
Stop by our Kenwood Towne Centre store, and our associates can help you find new accessories you can add to your existing tableware to make family dinners a little more fun and special.
Stop into our Kenwood Towne Centre store and let our sales team show you the latest trend items for late summer and fall!
OCTOBER MONOGRAM SPECIAL:
THE SOPHISTICATE WINE DECANTER
Red wines — especially bold, complex ones — improve in flavor when they're decanted before serving. Our Sophisticate decanter is classically stylish — and it's a great way to serve water or iced tea for family meals, just for fun! In October, choose your monogram style and take 30% off.
About six times a year, our buyer Linda Zeff packs her bag for a trip to major merchandise showrooms around the country, where she scouts new trends in home decorating and entertaining, and discovers all kinds of great items for us to carry in our Kenwood Towne Centre store.
The best way to incorporate seasonal trends into your home and table decor, Linda says, is to start with a foundation of timeless pieces that you love—in neutral colors like white or cream (for tableware), or tan, gray, brown or black (for furniture). "Always have the basics, items with a little bit of design that can stand alone," she says, pointing to Juliska's new Quotidien everyday dinnerware line, white stoneware with a cool-gray undertone and a handmade feel. "And build in the trendy items, as many or as few as you want. It doesn't make sense to replace all of your dinnerware as trends come and go. If you work with great essential pieces, you can rotate in a few new things each season."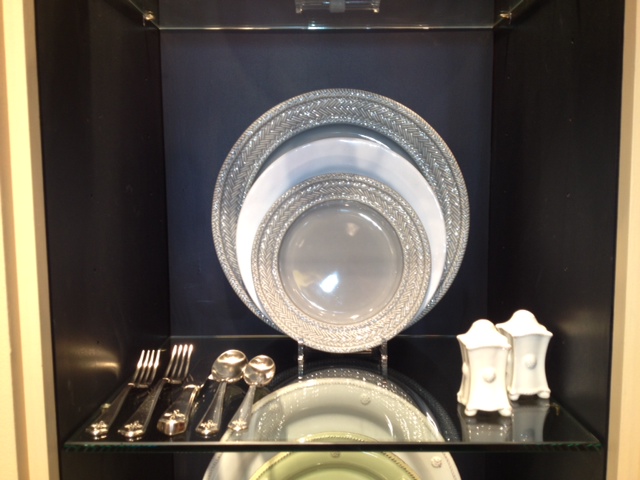 Linda is just back from Atlanta, where she spent several days visiting showrooms for furniture, fashion and giftware makers. Here's the lowdown on the trends and great products Linda spotted.
Everyone's singing the blues. Not the music—the color. Blue is big this fall and winter, in all shades from deep navy to bright cornflower to pale aqua. Blue works beautifully with neutrals like tan, brown and gray (make sure the warm or cool tones coordinate). And it's super easy to decorate with, unlike the bright green and bold orange hues that have recently been hot colors. One of our favorite inexpensive items for fall: statement cuff bracelets in shades of blue with white accents. In fashion, blue is the perfect transition color as we move from late summer into fall.
Graphic is good. Strong, graphic patterns grace everything from tableware to textiles to fashion. These patterns have a range of styles, from subtle herringbone and gorgeous Italian marbling, to bold African- and Native American-inspired designs. For example, we're loving our collection of bright, patterned woven-fiber baskets. They're oversized, so they have tons of great uses: as a centerpiece on a large table, for serving or storage.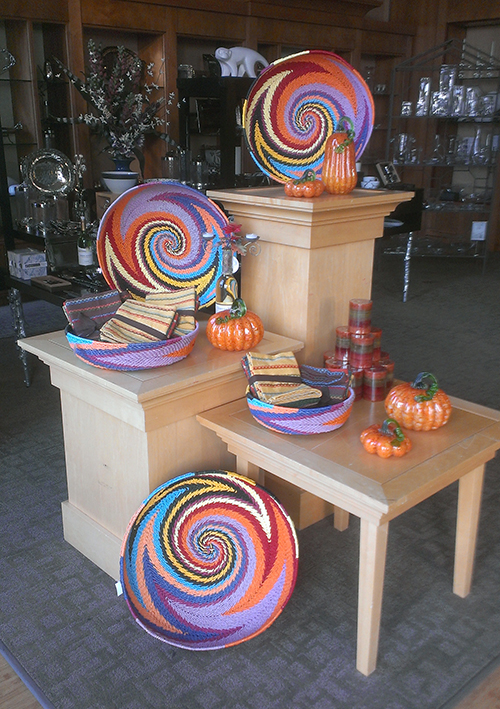 It's all about the texture. Linda found great examples of texture in the items she's bringing into the store, including gorgeously nubby woven scarves and embellished linens. We're also fond of Juliska's Jardins pattern (and we continue to add items from the collection), with its sculptural shape and tactile berry-and-thread motif.
Colored glass is back. Big-time. If you remember your Grandmother's pressed-glass wine glasses, vases and bowls, then you'll be fond of this trend. Colored glass—in both rich and pale hues—is a big part of the overarching trend toward vintage and nostalgia. And it's easy to incorporate colored salad plates and glassware into your tabletop setting—they go with anything.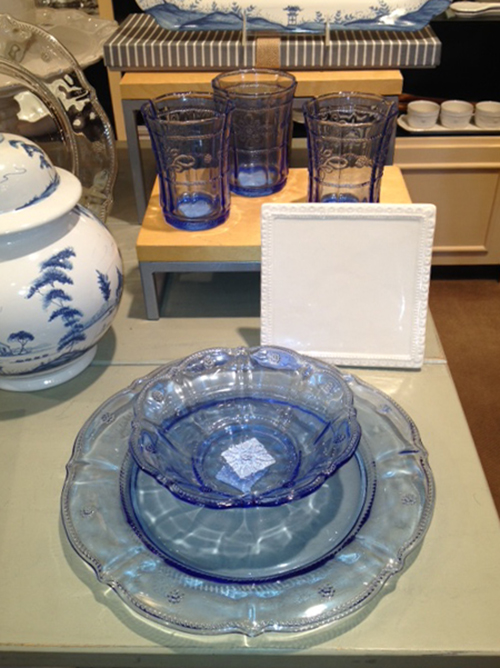 More than a dinner table. Another big trend for fall and winter: the tabletop as a place to get artistic and creative with your decor. Consider a massive vase of flowers centered on the table when it's not in use, or an array of your favorite china, or a grouping of candles. Too, Linda saw lots of serving pieces that double as art objects. We dig Michael Aram's gorgeous mixed-metal pieces; his open-weave baskets in the sunflower-themed Vincent or Botanical Leaf patterns are functional enough to serve bread and beautiful enough to keep on the table all the time.
Stop into our Kenwood Towne Centre store and let our sales team show you the latest trend items for late summer and fall!
September Monogram Special: The Classic Tankard Pitcher
Perfect for iced tea, big-batch cocktails (or a huge bouquet of sunflowers), our tankard pitcher has classic style and great functionality. In September, choose your monogram style and take 20% off this entertaining essential in 54- and 72-ounce sizes (monogramming included).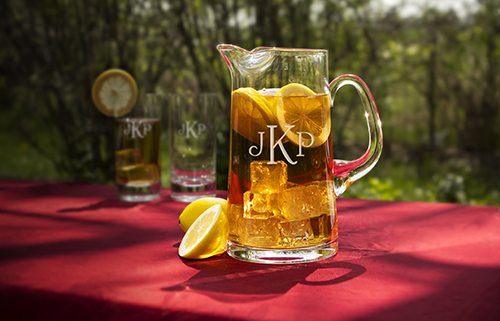 Vendor Spotlight: Charles Viancin
When our sales rep showed Linda the line of silicone bowl covers from Charles Viancin, she was interested—but a little skeptical. Sure enough, the first few products we brought into the store sold like hotcakes. Why? They work! Charles Viancin makes a range of silicone kitchen products inspired by nature. The handled lids—with fun flower and leaf designs—create a super-tight seal when you simply place them on a bowl or casserole dish. The lids go from fridge to freezer to oven to table, they're great for storing leftovers in odd-shaped bowls, and they make it easy to transport a dish to a party. We love the summery sunflower designs and the new pumpkin styles for fall (look for snowflake-shaped lids in our store this holiday season). We also carry Charles Viancin's silicone cutting boards (they're self-healing), colander/steamers, wine stoppers and glass/jar lids. You won't believe how functional and clever these products are!
Ahhhh, late summer: Even the most casual sports fan can't help but notice that Bengals training camp is gearing up, the Reds are making a playoff push, and college and high school teams are starting practice with an eye toward the fall season.
If your family includes die-hard sports fans—or if you have kids going off to one of the area's powerhouse colleges—then you'll want to help them flaunt their team loyalties in high style.
Our Kenwood Towne Centre store has lots of great ways for sports-heads (and the people who love them) to show off their fanaticism:
For game day. No self-respecting tailgater would show up at a game without three essentials: 1) lots of great picnic food, 2) plenty of frosty beverages and 3) the gear to serve it all. We're loving our team-logo picnic totes, which are perfect for hauling edibles to the pre-game festivities; you'll want all the themed accessories to go with it, including bottle openers, beverage buckets, travel tumblers and more.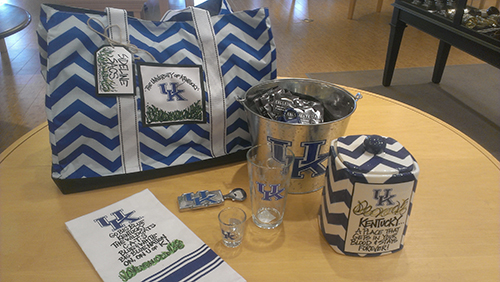 For watching at home. Hosting a party so friends and family can follow the action on the big screen? You can create the same kind of energy and atmosphere so your guests feel like they're at the game (without the parking hassles and crowded bathrooms). Our hand-painted serveware with Ohio State and University of Kentucky colors will set the tone just right. We especially like the college-themed goods (including popcorn bowls, serving platters, chip-and-dips) from The Dish Ltd., which combine official university logos with whimsical, hand-drawn illustrations of campus landmarks. (See the Vendor Spotlight.) Pour cold drinks in our barware etched with OSU, UK or UC logos. Watch the Bengals kick off the season and the Reds pursue a playoff spot with logoed mugs and serving plates. And don't forget the sweets—our team-themed cookie jars are sporty-fun.
For your sports-loving students. Sending kids back to OSU, UK, UC or Xavier this month? Our team-themed gear is great for dorms and apartments—especially the sturdy items like plastic travel tumblers, hefty mugs and logoed buckets. Pack a batch of homemade cookies in a ceramic jar from The Dish Ltd., illustrated with your student's favorite campus hotspots.
Dash into our Kenwood Towne Centre store to see the latest merchandise in our local sports-themed collections; we'll help you select the perfect pieces for entertaining.
August Monogram Special: Gramercy Salad Bowl
The height of summer means bountiful local produce is in season—and our 9-inch Gramercy Salad Bowl is perfect for serving beautiful summer tomato or fruit salads. You'll admire the curvy shape and solid base of this serving bowl, which can be customized with your initials. Select your monogram, and in August, this entertaining essential is just $40 (regular price $50), or 20% off.