4 Ways to Create a Table Setting that's Distinctly You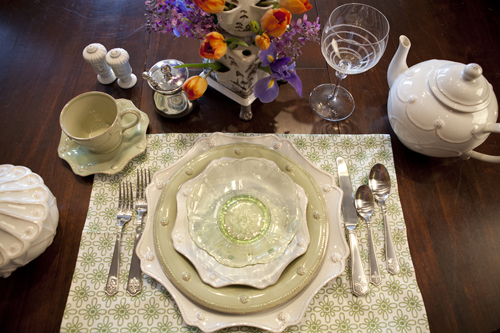 Page through any shelter magazine or browse any home decor website these days, and you'll see the current decorating trend. Out: go-together furniture sets and matchy-matchy fabrics: In: mixed-up styles and eras.
Who'd have thought that funky vintage chrome chairs would work with a heavy farmhouse-style dining table? And yet, there they are in House Beautiful. Martha Stewart Living's latest issue shows bold color-block palettes. A dining room pictured in Veranda features rustic wood furniture in a room adorned with delicate hand-painted wallpaper. This trend toward eclectic combinations lets you express your own taste—and since all the traditional rules have been tossed out the window, there's no wrong way to decorate.
You can adapt this anything-goes approach to creating a beautiful table setting for family dinners or for entertaining. Today's mix-and-match style lets you find everyday uses for items you'd otherwise save for special occasions; you can mix fine china and casual linens, and use the "good" crystal with informal dishware. Here are 4 ways to celebrate your unique style:
Mix color and pattern. You can create eye-catching place-settings for a sit-down dinner party by stacking plates in different shapes for multiple courses. Make sure the colors of your dishware are complementary so things don't get too busy. (Juliska ceramics, with their great array of shapes and patterns in colors that work well together, make this style easy to pull off.) Another approach: Mix table linens in boldly different patterns with dishes in a single color. Or keep everything on the table neutral—simple Reidel crystal stemware, off-white dishes (we love Simon Pearce's rustic stoneware), natural linens—and add a pop of color with a glorious floral centerpiece or a bold tablecloth.
Looking for more great tabletop ideas? Stop by Sterling Cut Glass at Kenwood Towne Center or visit us online www.sterlingcutglass.com to see the latest pieces for dining and entertaining, and let us show you how to create your own style.