Pick the Perfect Wine Glass
Serving different wines in different glasses isn't just a bunch of wine snobbery—there's good reason to be particular about your stemware.
Even casual wine drinkers know that much of their enjoyment comes from a wine's aroma—scents of wood or fruit or citrus that hit your nose even before you take a sip. Wine glasses of differing shapes help focus and concentrate those lovely aromas, enhancing the experience of tasting the wine.
Wine experts recommend having three sets of wine glasses: one for sparkling wine, one for white wines and one for reds. Monogrammed glassware can lend a personal touch to your entertaining; cut-crystal stemware makes an elegant statement on a dining table.
Sparkling wine glasses—the flute is the preferred shape nowadays, though the shallow, saucer-like coupe style was popular through the 1960s. The flute, with its narrow opening, creates a smaller surface area for the wine, which increases the bubbly sensation you enjoy when you take a sip. Coupe glasses are today more likely to be used for serving cocktails than for serving Champagne.
White wine glasses—Chardonnay, Sauvignon Blanc, Pinot Grigio and other white wines are typically served in glasses that are smaller than those used for red wines, with a slimmer shape and narrower opening. This style preserves a wine's crisp flavor by reducing oxidation (the interaction of air with the wine, which can subtly alter flavor and aroma).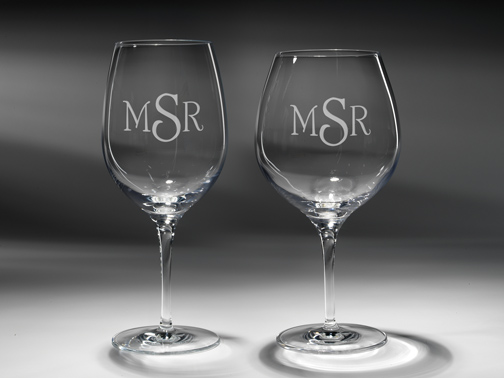 Red wine glasses—Bold wines like Cabernet Sauvignon, Zinfandel and Shiraz often benefit from that oxidation process. It's similar to the effect produced when a wine is decanted, or transferred from its bottle to a glass or crystal vessel for serving: The wine's sharp edges are softened, its flavor mellowed a bit. For red wines, choose large-bowled glasses with wider mouths, which allow those big, spicy wines to breathe.
Other wine glasses—If you'd like to expand your repertoire, consider these options:
While connoisseurs prefer to hold a glass by its stem to prevent the warmth of the hand from raising the wine's temperature, stemless glasses are popular and great for casual entertaining. Short-stemmed brandy snifters are used for fortified wines and cocktails. Serve after-dinner drinks in petite cordial glasses. Dessert wines are often served in glasses that are between white-wine and cordial in size.
Visit our Kenwood Towne Center store or shop online to see our entire collection of wine glasses, including our own exclusive Reserve Stemware collection, which features high design style at an excellent value. You'll also find Riedel's Vinum line and the 'O' stemless line, as well as Waterford Crystal and our made-to-order monogrammed stemware. (HERE)
Check Out Our Summer Clearance in July!
Looking for beautiful stemware? Be sure to stop in our Kenwood Towne Center store and browse our annual Summer Clearance Sale, which runs from July 20 through 29.
Our Summer Clearance Sale is a can't-miss event, with discounts of 40% to 75% on items in all departments throughout the store—including crystal and glass stemware and barware, jewelry, decorative items like vases and bowls, linens, serving pieces in ceramic, metal and glass.
The sale features seasonal collections from our most important brands, items for the home and patio, trend merchandise, plus unique and one-of-a-kind treasures you won't find anywhere else. Come in and discover great deals on fun, unexpected items you just can't live without!
July Monogram Special
Save on two sizes of our classic, hand-crafted crystal pitcher—perfect for summer entertaining!