5 Home Trends You'll Love
Linda Sacolick, the manager of our Kenwood Towne Center store, has the enviable task of visiting national home and gift shows, where brands and manufacturers present their latest products to retail buyers. Several times each year, Linda heads out on buying trips where she scouts new trends in gifts and home decor and selects new items for the store.
(She tells us it's hard work, but we think she really enjoys her buying excursions!)
5 Trends in Home Decor—we love them, and we think you will, too!
If you're looking to update your living space or refresh your dining table with new linens and serving pieces for the coming season, here's what's in style now: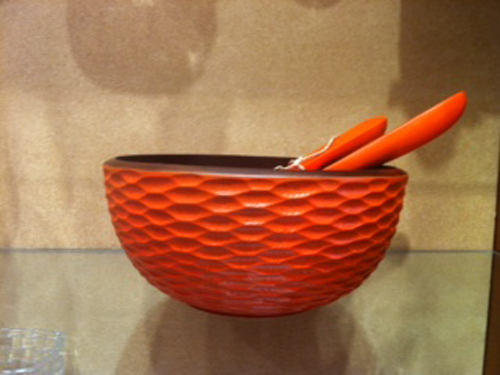 Color—According to the color experts at Pantone, 2012's color of the year is Tangerine Tango, an exotic but approachable orange. In Atlanta, Linda saw that trend in action, though she spotted softer, subtler shades of orange. Also trendy in the showrooms: bright blue accents used to complement neutral palettes of gray or sand.
Apply this trend at home: Add a pop of orange in the form of bright toss pillows on a neutral sofa. For the table, look for bold blue linens and napkins to contrast a dark wood tabletop.
Pattern—Fabrics and decorative items are being embellished with primitive-style patterns, a hot trend right now. Linda noted an emphasis on graphic patterns based on Native American or African motifs: zig-zags, diamonds, triangles and other geometric shapes repeating in rows or fields. Botanical patterns—florals, leaves and ferns—continue to be popular.
Apply this trend at home: Look for table linens or rugs with bold, geometrical designs. Bring nature indoors with pieces that have beautiful botanical shapes; Michael Aram's Botanical Leaf collection is a perfect example.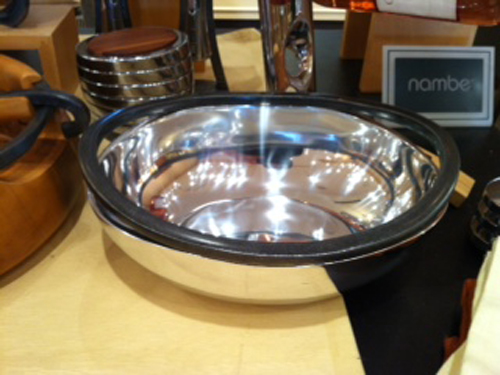 Finishes—Linda's showroom explorations revealed a big trend in shiny metallic and iridescent finishes. Many product designers are creating simple or traditional shapes—a classic bud vase, for example—and adding bright metallic finishes to give their pieces pop.
Apply this trend at home: A little shiny goes a long way, so look for accent pieces for home and table that bring on the bling.
Vintage—This trend just doesn't seem to be fading. Linda spotted a real design emphasis on mixing old and new. One of her big finds: vintage-looking pressed glass tableware in clear glass or jewel tones.
Apply this trend at home: Mixing family heirlooms and modern pieces is a great way to personalize your table. Get Grandma's silverware out of storage and use it with your modern china.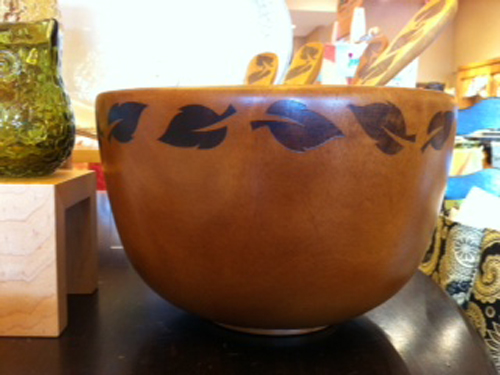 Green—Not the color, but the lifestyle. Think: recycled, remade, renewable. Glassware, serving pieces and decorative items made from sustainable materials like renewable wood or recycled glass are very popular.
Apply this trend at home: Mix "green" items into your decor or table setting. Look for coarse linens, wooden serving bowls, recycled glassware.
New products we love—and you will, too!
Of course, the whole point of Linda's trip was to bring beautiful and exciting new merchandise back to you, our customers in Cincinnati. Here's what you'll find in our Kenwood Towne Center store now and in the coming weeks:
An expanded line of pressed-glass dinner plates, salad plates and serving pieces from Juliska
Uniquely shaped, one-of-a-kind, hand-carved wooden pieces that look like art—but are, in fact, functional serving bowls and trays
Beautiful and durable (and very well-priced, too) bamboo serving pieces
Mixed-material designs, like pretty ceramic serving trays with metallic accents, and wooden salad sets with metal trim
New collections from top manufacturers. We're loving Michael Aram's Gourd collection, with gorgeous vining shapes in bronze and wood. Mariposa's glimmery-shimmery enameled metal serving pieces are perfect for fall entertaining. And Nambé has introduced a collection of kitchen items that are so pretty you'll love to use them.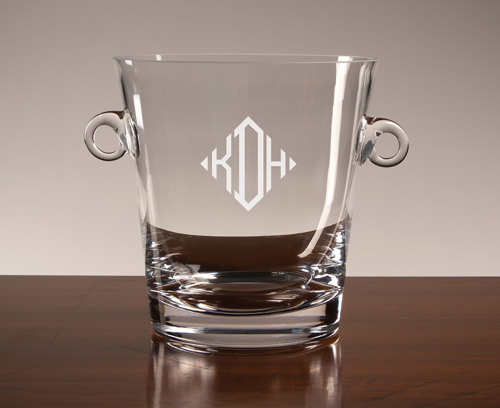 Come by the store to browse our new selections and chat with Linda about this season's home decorating trends. And be sure to check out our August special offer: 20% off two different sizes of our classic monogrammed crystal ice bucket—it's perfect for late-summer entertaining!