5 Great Halloween Decor Ideas
Over the past decade, Halloween has gone from kids and candy to a major fall entertaining event. Other holidays on the calendar are marked by religious or patriotic observances. But Halloween is—let's face it—just an excuse for throwing a great party.
Now that trick-or-treat candy is stocked on grocery shelves and costume stores are popping up, it's time to plan your Halloween decor and entertaining. As the holiday has evolved, decorations have become more creative and more sophisticated. At our Kenwood Towne Center store, we have a wide range of Halloween accessories you'll love, whether your taste is spooky-scary or a little more luxe.
Here are our top 5 Halloween decorating ideas for your home and table: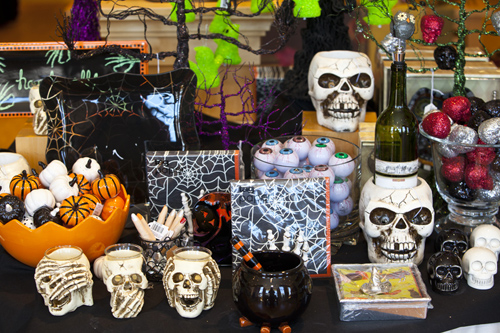 Skulls, bones and skeletons. Ever since the holiday's long-ago origins in All Hallow's Eve, which honored the recently departed, skeletons have been Halloween icons. For the past couple of years, skulls and skeletons have been trendy images in fashion and accessories. Skulls and skeletons can go from scary to kitschy to cute. Arrange three or five skull-shaped votive holders down the center of your table, or set one on each step of your staircase. Create a creepy mantel arrangement with lighted skulls and glow-in-the-dark pumpkins. Speaking of glow in the dark—that's in, in a big way. Phosphorescent accessories, including a collection of scowly-faced stepping stones for the garden, lend a fun, ghostly glow to your decor.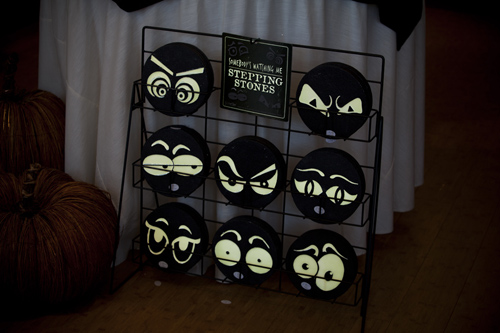 Unexpected frights. Look for creative ways to add scary elements to your party or home decor. Make a music playlist for your gathering, randomly inserting a couple of songs from old horror-movie soundtracks. Before you place that big bowl of popcorn or candy on your buffet table, tuck in a couple of freaky plastic eyeballs that your guests will encounter when they reach for a snack.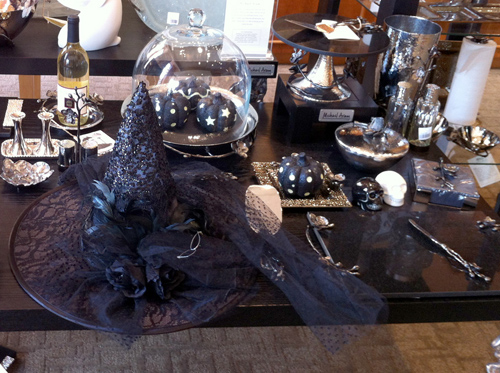 Harvest-themed decor. If Halloween isn't your thing, you can still get into the spirit of the season. After all, pumpkins, corn stalks and scarecrows have long been associated with October 31, since it falls during the harvest. This season, we're especially loving Beatriz Ball's gorgeous handmade metalware with a pumpkin/harvest theme. Serving pieces, table linens and entertaining accessories adorned with oak leaves, vines and pumpkins can easily transition to Thanksgiving.
Black, white and silver. Sure, orange is the hot color in decor this year (SEE HERE). But you can omit the orange and create a sophisticated palette for your home or party by blending black, white and silver. Set your table with black runners and napkins, then add shiny metallic serving pieces, black decorative pumpkins, black candles and skull votive holders. For a creepy centerpiece, coat tree branches with glossy black spray paint, arrange them in a tall metal vase and drape them with faux spider web (tuck in a fake spider for maximum effect).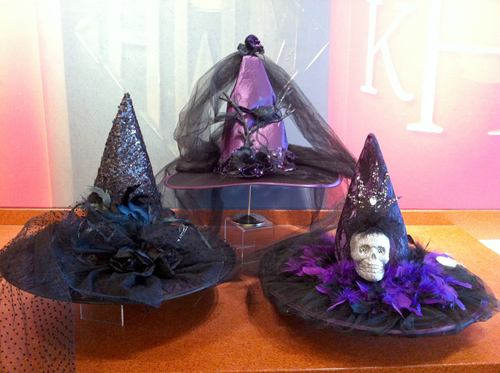 Fabulous fashions. Once you've tricked out your home, treat yourself to a fun accessory to wear on the big night. But don't worry: You don't have to shop for a complete costume. Our store manager and buyer, Linda Sacolick, brought in a line of glamorous witch's hats, and we expect them to be hot sellers this season. These high-topped, broad-brimmed beauties are decked out with black netting, fancy trims, and purple and silver accents. Tie on one of our flirty black-tulle aprons if you're the Kitchen Witch or Halloween Hostess. (Guys, you're on your own for costume ideas!)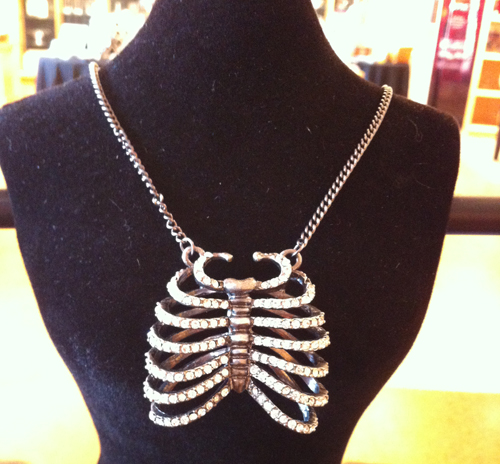 Stop in our Kenwood store for more fun and out-of-the-ordinary Halloween accessories for table and home. And mark your calendars now for our big Holiday Sale, which begins November 5.
Our monogrammed Seasons serving bowl and companion nappy bowl are perfect for salads—and they're our September monogram special. Enjoy 20% off the large (8 1/2-inch) and small (5 1/4-inch) versions of this classic style, now through the end of September.