10 Truly Unique Gifts They'll Love
These days, with online gift registries and wish lists, it can be hard to find a present that's truly surprising, something that delights the recipient. As we enter a season of giving, you'll be on the lookout for goodies that everyone on your list will treasure. And we've got some fun, unique gifts for every occasion, whether it's winter birthdays; Christmas, Hanukkah and Kwanzaa; hostess thank-yous or, well, just because.
Even better: If you shop during our famous Annual Pre-Holiday Sale, November 5 through 18, you can save 20% on nearly everything in the store.
In search of that perfect gift? Look no further! Here are some of our favorite gift items in the Kenwood Towne Centre store right now; we think you'll love them too!
For the fashionista: If you haven't been to the store for awhile, you'll be surprised by all the great fashion accessories manager Linda Sacolick has been bringing in. We're especially loving a line of handbags and clutches from Spartina, along with gorgeous coordinating scarves.Or, our collection of jewelry, including beautifully simple sterling or gold-plated initial pendants with crystal drops from Lotus, is ideal for gift-giving. Great price points, too.
If your recipient wears accessories with lots of flash, then she'll love our gorgeously iridescent necklace of faceted crystal beads woven with fine silver chain. A fabulous new collection of clutches from Wendell August really make a statement, in handtooled metal or in cute "girlfriend" patterns.
For the wine lover: Sure, a bottle of wine is nice this time of year. Dress up your gift with a remarkable wine coaster or bottle stand from one of our favorite designers, Michael Aram. A set of custom monogrammed stemware is always a welcome gift (and monogrammed items are 20% off during our Pre-Holiday Sale).
For festive friends and family. Our Sterling exclusive annual holiday ornament is back, now in its 29th year. This year's unique design features a beautifully calligraphic dove with olive branch, the universal symbol of peace. This crystal ornament is etched and dated by our own craftsmen, and it's available in a limited edition. During our Pre-Holiday Sale, it's an especially great buy at $25.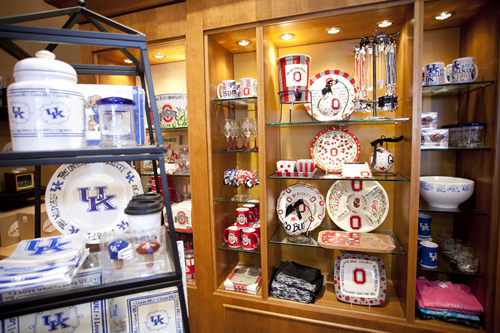 For the local sports fan. With college and pro football in full swing throughout the season, why not a gift that lets your recipient flaunt his fandom? We have a great assortment of fun and well-priced gift-ables for Kentucky, Ohio State and Bengals fans.
For the hostess. New this season, we've introduced a new collection of absolutely stunning, USA-made serveware in hand-forged mixed metals from designer Wendell August. These beautifully textured pieces, in snowflake, evergreen and poinsettia patterns, would make for a memorable gift that's used for years to come.
For your BFF. Commemorate a vacation, girlfriend weekend or special occasion among friends from 2012 by giving your bestie a framed photo.
For the animal lover. Have you seen the collection of animal accessories from hot designer Jonathan Adler? Contemporary in design, with great texture and matte finishes, these charming pieces capture animal figures like porcupines, fish, giraffes, monkeys and more. The collection ranges from cute salt-and-pepper sets to bookends to wonderful sculptural pieces.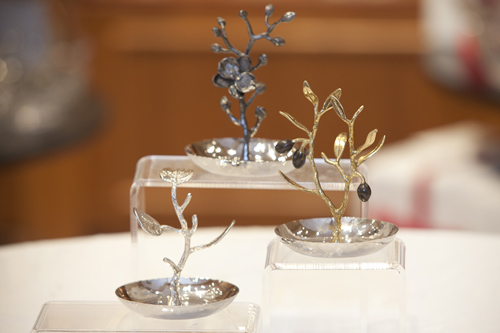 For the newly engaged. We all know that holiday time is the popular occasion for marriage proposals, so you'll want to be on the lookout for memorable gifts for newly engaged brides-to-be. We're captivated by designer Michael Aram's delicate ring holders, in mixed metal with botanical themes.
For your 'nutty' family. We're not sure where the tradition started, but it seems like a must to have a bowl of in-the-shell nuts and a fancy nutcracker on the table during holiday gatherings. Go a little fancier with your presentation: Nambé's handcarved wooden bowl with silver nutcracker (and a bag of unshelled mixed nuts) make a fantastic seasonal gift.
For the traditionalist. Everyone loves holiday-themed dinnerware for entertaining, and Juliska (one of our favorite vendors) offers a lovely, not-too-Christmasy collection that features winter scenes illustrated in deep red on stoneware. Juliska's holiday Country Estate line includes a set of 4 party plates that makes a wonderful gift.
Start planning your holiday gift-giving now, and be sure to visit our Kenwood Towne Centre store for our can't-miss Annual Pre-Holiday Sale from November 5 to 18. You'll find unique and memorable gifts at great prices for everyone on your list!