5 Great Ideas for Your Holiday Table
'Tis the season to sparkle and shine, no matter which of the December holidays your family celebrates. Throughout the month, we'll be gathering as families and friends to celebrate—crowding into warm kitchens, settling around dining tables, enjoying each other's company.
If you're hosting a party this month, large or small, then you're looking for decorative touches that will make your home and table truly special. Linda Sacolick, the manager and buyer for our Kenwood Towne Centre store, keeps her eye on decorating and entertaining trends, and she shares five great ideas for creating a beautiful setting this season.
Linda suggests mixing tabletop and decorative items you may already have—particularly if they're family heirlooms or beloved holiday treasures—with a few new elements that are trendy and fun. There's no wrong way to decorate for holiday entertaining—just incorporate things you love in a way that feels good to you. A few ideas to get you thinking:
Go for the gold (and silver). Take a break from traditional holiday colors and set your table with shimmering silver and gold. You can skip the formal tablecloth and set place-settings directly on the table for beautiful contrast between sparkle and wood. Or use our shimmery silver-and-gold round placemats. We're also loving this season's collection of dining and serving pieces from Annieglass, which have silver or gold ornamentation on frosty glass. Accent your table with sparkling cut-crystal wine or champagne glasses, your best silverware—and don't forget lots of candles to make all that bling really shine. Silver and gold make a stunning decor for a romantic New Year's Eve dinner for two or festive party.
Mad for plaid. Plaid (along with houndstooth and other preppy patterns) is in this season—but with a modern twist. Juliska's pretty plaid table linens (shown below) would look at home even in the most contemporary home, thanks to an unexpected color combination of red and black.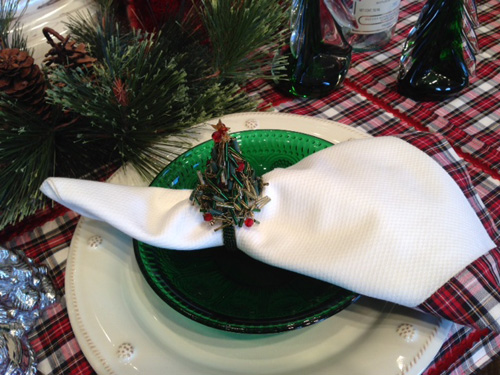 Rose-colored glasses. Colored glass dining and serving pieces and other table accents in rich jewel tones remain trendy, thanks to the ongoing popularity of retro and vintage-style decor. Tap into the trend by setting your table with pretty glass plates in deep red and green (shown above), along with tinted glass candlesticks, glass-handled salad servers and other coordinating items.
Don't overlook the details. They're what sets a special holiday dinner apart from an ordinary family meal. Here's where you can incorporate small, inexpensive items into table settings that you already have. Pick up a few holiday ornaments to use as placecard holders. We're also loving the sparkly Christmas-tree napkin rings we're carrying this season (shown above). Festive servers for salad, cheese and dips add a fun touch.
Pick a theme. If you want to keep your place settings simple, then consider a themed centerpiece to wow your guests. It's easy to put together: Just arrange a collection of similar items, in a range of different sizes, in the middle of your table or the center of your buffet. A few ideas: old-world nutcrackers, holiday houses, glittery glass trees, oversized Christmas bulbs or a big vase of ornaments.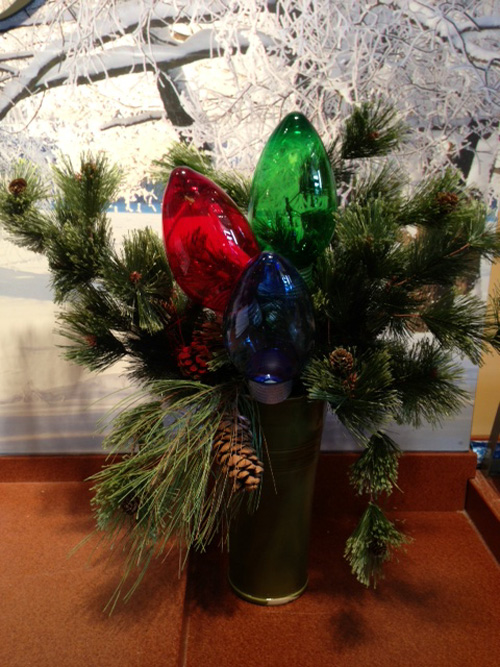 Stop in our Kenwood Towne Centre store to find all kinds of beautiful items for your holiday entertaining in all price ranges. Linda and her team of sales consultants can help you create the perfect table. Plus, we've taken markdowns on a large selection of holiday merchandise!
Don't forget our December Monogram Special: Enjoy 20% off our classic monogrammed Harmony bowl. And be sure to shop online for our collection of hand-etched crystal stemware and serveware with our exclusive holiday designs (HERE).
Happy holidays from all of us at Sterling Cut Glass!