12 Ways to Celebrate Valentine's Day in Style
As we settle in for a long winter, the busy-ness of the December holidays behind us,  Valentine's Day can sneak up on us. Particularly when it falls on a weekday, this heart-warming holiday may escape our attention, or not be as special as it could be.
So plan now to make Valentine's Day a romantic occasion for just the two of you (or feel free to invite the kids into a celebration of your whole family). The team at our Kenwood Towne Centre store recommends 8 great Valentine's Day gift ideas for your loved one(s) and shares 4 ways to create a romantic table setting at home.
Great Gift Ideas
For more than a generation, Sterling Cut Glass has helped you celebrate with just the right gifts, and we're happy to share some traditional Valentine's Day ideas—and some fresh ones, too.
For him:
Guys rave about our etched crystal barware (according to the ladies who tell us about their gift-giving successes). If your man has embraced the current cocktail craze, then a bottle of fine spirits and a set of monogrammed rocks glasses make the perfect gift. Is he a "shaken, not stirred" kind of guy? Then he'll love our monogrammed martini glasses. If he's already stocked the bar, then an elegant silver frame with a family portrait or casual photo of the kids makes a wonderful token of love.
For her:
Men, you should know that chocolate is always in style for Valentine's Day—but please, not the drugstore kind. Select your sweets from a chocolatier or gourmet shop, and then present them wrapped with a little decorative tray from Mariposa or one of our monogrammed crystal bowls. Does she love flowers? Stop into our Kenwood Towne Centre store and we'll help you choose the ideal crystal vase.
For moms, sisters and girlfriends:
The women in your life will appreciate little Valentine's Day gifts that tell them how much they mean to you. Jewelry is always welcome—and we have a terrific assortment of necklaces, bracelets, rings and earrings in styles from simple to blingy and at super-smart prices. Have a sis who's crazy about handbags? We're keen on the Spartina line of coordinating purses and scarves.
Bring Romance Home
Valentine's Day falls on a Thursday this year, and for most of us that means that a fancy night on the town is out of the question. So why not create the perfect romantic dinner at home? Creating a special meal for two doesn't have to be complicated (and it's certainly less expensive than dining out). Here are some easy decorating ideas for setting your table on Valentine's Day:
Find the perfect dining spot. Instead of the big dining-room table, consider an alternative spot for your romantic meal. You can dress up a side table in the living room with nice linens, pretty place settings … and of course LOTS of candles. Pull in two dining chairs, and you have an intimate nook for dinner.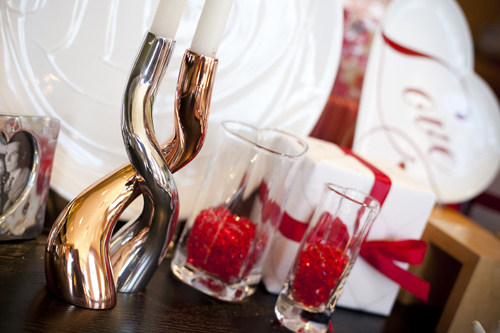 Use the good stuff. Sure, it's a Thursday. Bring out your best crystal stemware, your wedding china, the silver flatware—the "good stuff" you reserve for special occasions. If Valentine's Day isn't a special occasion, what is? Toast your relationship with a pair of Champagne flutes; consider Italian sparkling Prosecco as a delightful variation on pricey French bubbly.
Decorate the perfect table. Candles. Lots of candles. Arrange a glowing centerpiece with votives, hurricanes and candlesticks in a range of heights and styles. Or set pillar candles and tealights directly on a shimmery silver platter. Add a dozen red roses in a cut-crystal vase. Or place a single rose at each place setting.
Invite the kids. Since you're celebrating Valentine's Day at home, consider involving your kids. Let them help plan a festive meal and sip sparkling grape juice. During dinner, ask everyone to share what they love about your family.
Visit our Kenwood Towne Centre store or shop online (HERE) for more terrific Valentine's Day gift ideas and the inspiration you need to create a romantic dinner at home.
Our January Monogram Special—the classic Broadway Frame etched with your choice of type styles—makes a great Valentine's Day gift.