4 Big Trends Ideas for Home and Table
Linda Zeff, the manager of our Kenwood Towne Center store, has the enviable task of visiting national home and gift shows, where brands and manufacturers present their latest products to retail buyers. Several times each year, Linda heads out on buying trips where she scouts new trends and selects great gifts, tabletop and decorative items to feature in the store.
Linda's spent quite a bit of time on the road in recent weeks, visiting showrooms and merchandise marts in New York and Atlanta. Here are some of the key trends she's spotted, along with ideas for bringing the latest styles into your home.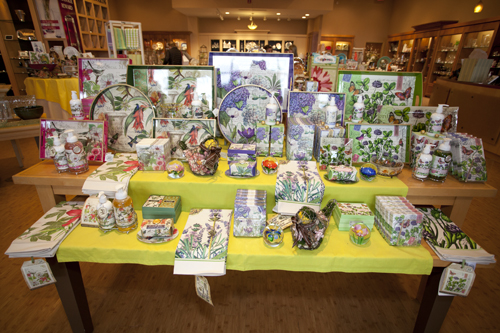 It's easy being green. Pantone, the color authority, has named Emerald Green the color of the year. And it's not just that deep, rich hue — green is showing up in a bunch of variations and in all kinds of ways. Emerald is a strong color, and it's best used as an accent (think: a bold throw pillow on a neutral sofa). We're also seeing softer, more natural greens, like moss and leaf.
How to apply this trend at home: Think of green as a supporting player. Add a subtle touch to your table by mixing the color into your place-settings; we love Juliska's pretty green glass accent plates, and their soft, mossy-colored ceramics. Look for decorative napkins and linens with a touch of green.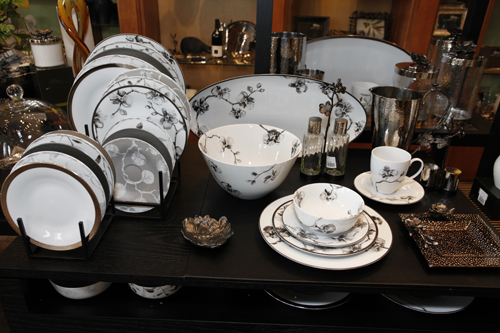 Nature is right at home. Linda's been watching the natural trend for some time now (LINK TO THE AUGUST POST ON TRENDS?), and there's no sign of it stopping. Natural motifs are pretty—and they're super-flexible; they can go retro (classic botanicals) or modern (clean shapes and bold lines).
How to apply this trend at home: You simply can't go wrong in adding a touch of nature to your home or table. We're especially excited to carry designer Michael Aram's new line of dinnerware — his mix-and-match collection in shades of gray, pewter and silver is simply stunning. There's a strong natural element in all of Michael's work, and this collection includes designs called Black Orchid, Olive Branch and Botanical Leaf.
We're also fond of the latest Charley Harper serving items, which are new to our store. Harper is a Cincinnati artist, and his bold, graphic illustrations of birds, animals and plants are colorful, fun and timeless. If you want something a little more formal (but still charming), we recommend Mariposa's gorgeous enameled flower platters and bowls (check out the super-cute salad set, too!).
For gift giving, our assortment of pretty floral decoratives from Michel Designs are perfect. These botanically-themed soaps, towels and decoupage glass trays have classic floral designs. Too, you can dress up your home and table with Betsy Drake's line of hydrangea patterned table linens and indoor-outdoor rugs/pillows, with pops of purple and trend-setting green.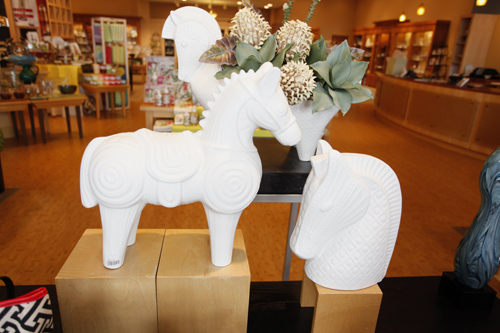 Big and bold are trendy. Linda spotted many large-scale, statement-making decorative pieces at the recent shows, and we've brought some really impressive items into the store. These eye-catching decorative elements can be displayed on a pedestal, a deep bookshelf or a mantel — anywhere you want to add visual impact, fill a space and grab attention.
How to apply this trend at home: One of our favorite designers, Jonathan Adler, blends two trends — nature and size — in his wonderful animal sculptures in matte-glazed ceramic. These are true statement pieces, but their neutral color keeps them from overwhelming a bookshelf or mantel. If you want "wow" — look for our new collection of mouth-blown glass vases (up to 3 feet tall!), bowls and platters in remarkably vibrant colors. For the table, we love Beatriz Ball's huge leaf platter, another marriage of natural theme and large scale.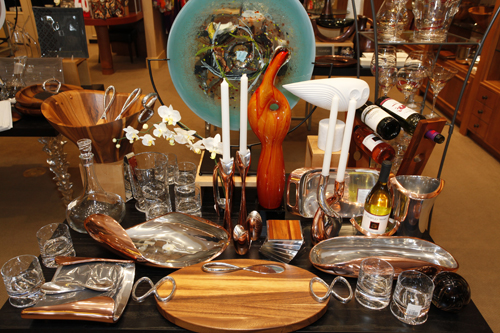 Blending formal and casual is "in." The trend in home and table decor right now has moved away from "matchy-matchy" to a more eclectic style that mixes high and low design styles. What's great about this trend is that it gives you permission to mingle your favorite looks together. There's no wrong answer. And it's a great opportunity to add interest by mixing a few new pieces into what you already have.
How to apply this trend at home: Now that spring's formal holidays are behind us and the season is transitioning toward warmer weather, entertaining starts to become a little more casual. But that doesn't mean shelving the good crystal until fall. What's in now is to blend high and low styles. Our curvy and casual wood-and-metal Nambé serving pieces, for example, look right at home on the table with monogrammed crystal stemware. Juliska's lovely dinnerware works beautifully with a rustic table runner and napkins. Mix and match to suit your style.
Visit our Kenwood Towne Centre store in to see all the new items Linda has found to bring back to Cincinnati, including the latest Spartina handbags and scarves, great jewelry and fabulous gift ideas for Mother's Day.
Vendor Spotlight: Michael Aram
Inspired by a trip to India, sculptor Michael Aram turned his artistic focus toward the kinds of metalworking that he saw there, and he set up a home and workshop in New Delhi. Michael works with a group of talented craftsmen to create items for the home and table that are inspired by nature and rendered in mixed media. Michael Aram's designs incorporate botanical elements like flowers, leaves, twigs and branches, which grace elegantly shaped snack dishes, coffee sets, platters, cocktail accessories, frames and more. New for 2013: Michael Aram's dinnerware collection offers a mix-and-match array of leaf and flower designs in delicate shades of gray with silver and pewter accents.