Celebrating Mom and Mariposa in May!
You'll want to mark your calendar with two big events in May: Mother's Day, of course (that's Sunday, May 12) … and our special Mariposa May event, which runs May 1 through 31.
We think it's a great thing that these two special events coincide, because Mariposa, one of our favorite vendors, offers some terrific tabletop and decorative items that Mom will love.
Even better: We're offering two gifts with purchase during the Mariposa May event: With any $75 Mariposa purchase, you'll receive a tealight candle in Mariposa's String of Pearls design as our gift (that's a $25 retail value). Spend $150 on Mariposa, and you'll receive a Mariposa napkin box (a $48 retail value). Gifts are available while supplies last.
And be sure to stop in our Kenwood Towne Centre store during May to enter our Mariposa raffle: You may win a large bowl, little bowl and salad servers in Mariposa's Wavy Collection (a $250 retail value). The drawing will be held on June 1.
We can help you find the perfect gift for Mom, whether she loves Mariposa or any of the other designer brands we carry. Here are some of our favorite Mother's Day gift ideas:
Great gifts from Mariposa: We can't get enough of this specialty brand's gorgeous items, which are available at all different price points. Mariposa's elegant napkin box in hand-polished metal comes with cocktail napkins and a decorative weight to keep them tidily in place. Their scented soy candle is another terrific gift idea: The candle burns for 50 hours and comes topped with a pretty, sculpted lid in flower and beach designs. When the candle has burned, Mom will have a keepsake jar. For fun, bake Mom a dozen cupcakes and present them on Mariposa's three-tier cupcake stand in the popular String of Pearls design. If she's a wine lover, she'll appreciate a wine coaster and bottle stopper, also in the String of Pearls collection. Is she a gardening fanatic? She'll love Mariposa's gorgeous enamel flower bowls — a great gift at just $44.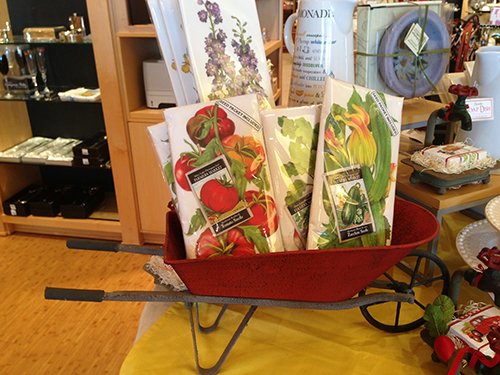 More fun ideas for Mom:
For your fashion-forward mom: a tote with matching zippered clutch or scarf from Spartina's newest spring collection.
For your family-oriented mom: a silver photo frame with a gift certificate to a local photo studio.
For your active mom: a necklace or bracelet made up of charms that represent her favorite activities and hobbies.
For your gardening mom: printed flour-sack towels with a vintage seed packet — real seeds included!
For your flower-loving mom: a bunch of spring flowers in a pretty vase. A couple of our favorites:
• the heart-shaped bud vase from designer Simon Pearce (made in the USA of hand-blown glass and signed by the artist)
• Miller Rogaska's cut-crystal bud vases have a pretty flare at the top
• Nambé's Globe bud vase is modern and breathtaking, a great way to display a spray of orchids.
Stop in our Kenwood Towne Centre, and we can help you choose the perfect gift for Mom (we'll wrap your gift, too). And you can treat yourself, too, with our gift-with-purchase Mariposa May event, through May 31.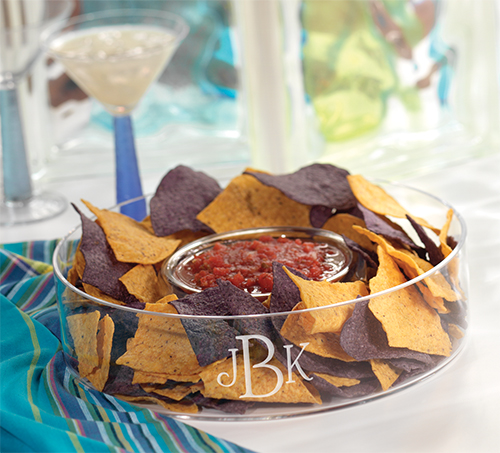 May Monogram Special
Get a jump-start on your summer entertaining, with our terrific price on a monogrammed chip-and-dip set. Regularly $50, it's on sale for $40 during May — monogramming included.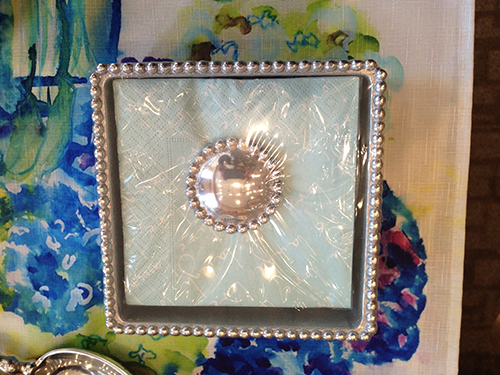 Vendor Spotlight: Mariposa
We're celebrating one of our favorite vendors in May: Mariposa. Mariposa is all about the art of entertaining. Mariposa products are all handmade, the majority from 100% recycled materials. No two pieces are ever exactly alike. Founder Livia Cowan was inspired by a trip to Mexico to establish Mariposa three decades ago, after falling in love with handcrafted decorative items there. Three designers now collaborate on the full Mariposa collection, which includes serveware (canape plates, sauce dishes, salad sets, platters and bowls), decorative items (jar candles and tealights, frames and ornaments) and barware and glassware. Mariposa's designs are inspired by nature and texture: floral elements, beach themes and linen. We love how Mariposa lets our customers live and entertain — beautifully.