5 Fun Ideas for Summer Entertaining
Break out the flip-flops, barbecue tongs and margarita glasses: Summer entertaining season is in full swing! Whether you're hosting family grill-outs, neighborhood potlucks or cocktails by the pool, we have everything you need to stay cool, have fun and party in style. Here are 5 of our favorite summer entertaining ideas: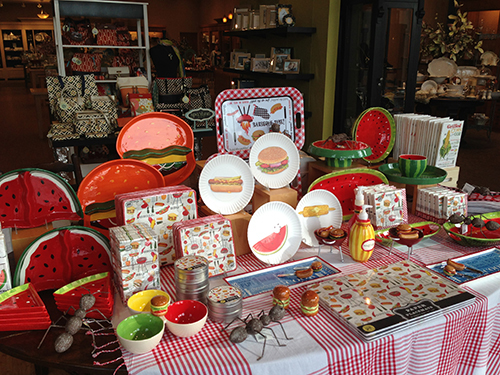 Step up from paper plates. We're crazy about the incredibly high-quality melamine dinnerware that's available this season, in styles ranging from beachy to sophisticated. If you think of melamine as barely a step above paper plates, think again. This new breed of melamine dinnerware is thicker, heavier and more durable than previous versions. And it's still a great value, so it's easy to stock up on all your party ware needs. We're especially excited about two brands of melamine dinnerware that we're stocking now: Michael Aram's gorgeous pieces that echo the designs of his fine china (with great shapes and textures), and Kim Seybert's great coral-themed patterns.
Bring the beach home. Can't get to the beach this summer? Bring the beach to you! Nautical, ocean and marine life motifs are very trendy in housewares and home decor this season. But the look is fresh, not kitschy. Kim Seybert's fantastic collection of coral-adorned outdoor dinnerware brings a bold splash of color. We're also liking the ocean-themed serveware from Annieglass (which donates a portion of sales to the Monterey Bay Aquarium).
Go south of the border. The bold primary colors and graphic patterns of Spanish and Mexican decorative arts make a perfect focal point for setting an outdoor table. Think of bright napkins and tablecloths, and serving pieces with pops of hot color. You'll definitely want a pitcher of sangria or margaritas for your summer party. (See below for store manager Linda Zeff's killer sangria recipe.)
Blur the line between inside and out. We're living outdoors more than ever, and the range of high-quality outdoor furniture and textiles is a testament to that. So find ways to entertain seamlessly between your indoor and outdoor spaces. Move some of your favorite decorative elements from inside the house to an outdoor porch. Use flowers and veggies from your garden as centerpieces on your dining table.
Serve with style. Entertaining can be tricky during these balmy days of summer. But a few key pieces will help you beat the heat. Keep your party drinks cold: Keep bottled drinks cold in a big ice bucket, and use a Corkcicle (one of our favorite useful kitchen gadgets) to keep white wines well-chilled. A terra cotta wine cooler will keep red wines at just the right temp.
Don't Forget Dad!
Father's Day is Sunday, June 16, and we have a range of great gift ideas for dad. We  suggest a few great gift pairs:
— an assortment of local craft beers and a set of 4 monogrammed beer mugs or pilsners
— a bottle of his favorite spirit, and a set of 4 monogrammed crystal rocks glasses
— a frame and a gift certificate for a family portrait at your local photo studio
— tickets to his favorite local football team and a set of tumblers with Ohio State or U.K. logos
Looking for a Wedding Gift?
We're ready to help you find that perfect present for summer brides and grooms, regardless of whether they're registered with us. Stop by our Kenwood Towne Centre store and choose a personalized gift with the couple's new monogram; it's such a special way to celebrate their union. They'll remember your thoughtfulness for years to come.
Linda's Sangria
This white wine sangria is full of fruit and beautiful when served from a big glass pitcher. Use inexpensive wine and liqueur, and ample amounts of fruit. It's cool and flavorful—but it packs quite a punch!
(Serves 8 to 10; can be doubled for a larger party)
1 750-ml bottle inexpensive Spanish white wine, well-chilled (avoid super-dry white wines like Pinot Grigio)
1 cup inexpensive brandy
3/4 cup triple sec
10 cups mixed fresh fruit (berries, apples, oranges, pineapple)
1 cup fresh mint leaves
club soda to taste (optional)
Measure 6 cups of fruit; use a potato masher to smash it into a rough puree. In a large pitcher, combine wine, brandy, triple sec, mint leaves and muddled fruit. Refrigerate sangria until serving to blend the flavors and thoroughly chill it. To serve, place several pieces of fresh fruit into each glass and top with cold sangria and club soda to taste (if desired).
June Monogram Special: Monogrammed Glass Trays
Our monogrammed glass trays in oval, round, square and rectangle shapes, are perfectly sized for serving desserts, hors d'oeuvres or cut fruit. Choose your monogram style, and in June, enjoy 20% savings on your monogrammed glass tray.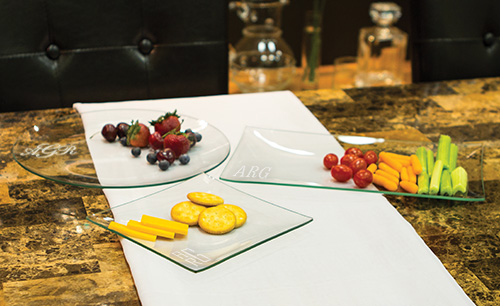 Vendor Spotlight: Bigwood Boards
If you're entertaining this summer, you'll want a gorgeous maple server from Bigwood Boards. These monogrammed wooden cutting/serving boards are made in Vermont, machined from pure hardwood and hand-sanded to a beautiful finish. The boards feature rubber feet for stability, a "juice trough" around the perimeter to keep your table clean, and they're available with or without handles. Bigwood Boards can be personalized with a single initial or three-letter monogram. These multi-purpose boards are perfect for serving breads or appetizers in the summer, and for carving roasts during the holidays. Special: Visit our Kenwood Towne Centre store and mention this message, and receive 20% off your purchase of a monogrammed Bigwood Board.