Fun Ways to Show Your Team Spirit in Style
Ahhhh, late summer: Even the most casual sports fan can't help but notice that Bengals training camp is gearing up, the Reds are making a playoff push, and college and high school teams are starting practice with an eye toward the fall season.
If your family includes die-hard sports fans—or if you have kids going off to one of the area's powerhouse colleges—then you'll want to help them flaunt their team loyalties in high style.
Our Kenwood Towne Centre store has lots of great ways for sports-heads (and the people who love them) to show off their fanaticism:
For game day. No self-respecting tailgater would show up at a game without three essentials: 1) lots of great picnic food, 2) plenty of frosty beverages and 3) the gear to serve it all. We're loving our team-logo picnic totes, which are perfect for hauling edibles to the pre-game festivities; you'll want all the themed accessories to go with it, including bottle openers, beverage buckets, travel tumblers and more.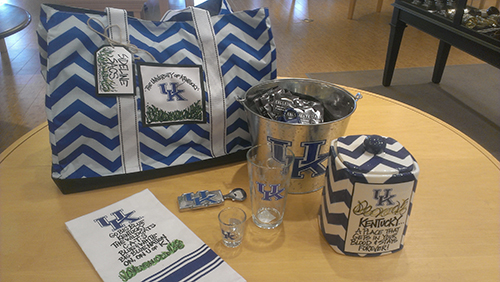 For watching at home. Hosting a party so friends and family can follow the action on the big screen? You can create the same kind of energy and atmosphere so your guests feel like they're at the game (without the parking hassles and crowded bathrooms). Our hand-painted serveware with Ohio State and University of Kentucky colors will set the tone just right. We especially like the college-themed goods (including popcorn bowls, serving platters, chip-and-dips) from The Dish Ltd., which combine official university logos with whimsical, hand-drawn illustrations of campus landmarks. (See the Vendor Spotlight.) Pour cold drinks in our barware etched with OSU, UK or UC logos. Watch the Bengals kick off the season and the Reds pursue a playoff spot with logoed mugs and serving plates. And don't forget the sweets—our team-themed cookie jars are sporty-fun.
For your sports-loving students. Sending kids back to OSU, UK, UC or Xavier this month? Our team-themed gear is great for dorms and apartments—especially the sturdy items like plastic travel tumblers, hefty mugs and logoed buckets. Pack a batch of homemade cookies in a ceramic jar from The Dish Ltd., illustrated with your student's favorite campus hotspots.
Dash into our Kenwood Towne Centre store to see the latest merchandise in our local sports-themed collections; we'll help you select the perfect pieces for entertaining.
August Monogram Special: Gramercy Salad Bowl
The height of summer means bountiful local produce is in season—and our 9-inch Gramercy Salad Bowl is perfect for serving beautiful summer tomato or fruit salads. You'll admire the curvy shape and solid base of this serving bowl, which can be customized with your initials. Select your monogram, and in August, this entertaining essential is just $40 (regular price $50), or 20% off.