5 Great Harvest & Halloween Decor Ideas
Is it just us, or has October really snuck up on everyone else, too? It's hard to believe that Halloween is about 2 weeks away, with the fall and winter holidays soon to follow.
The shift in temperatures and onset of color in the trees have us thinking about creative ways to update our home decor for fall — small touches that have a big impact. This season, we're seeing a trend toward warmer, subtler designs than in the past. You can incorporate these ideas to bring a festive harvest or Halloween flair to your home.
We've scouted our Kenwood Towne Centre store to share a few of our favorite fall finds:
Great pumpkins.
We're loving our collection of gorgeous blown-glass pumpkins with bright green stems. They're pretty and not at all kitschy, and they look great on a table, bookcase or mantel. If you're looking for whimsy, we have a fun selection of jack o'lantern plates and mugs, perfect for serving Halloween treats and hot cider.
Fall botanicals.
Acorns, oak leaves, pumpkins, sunflowers — nature has a bounty of beautiful elements for decorating. Tuck an oversized topiary form made of woven twigs and filled with lightly scented potpourri onto a shelf. We also like the fall motif of My Evergreen's amber bubble-glass serving pieces with bronzed maple-leaf accents; the bowl and two different party servers are nicely priced.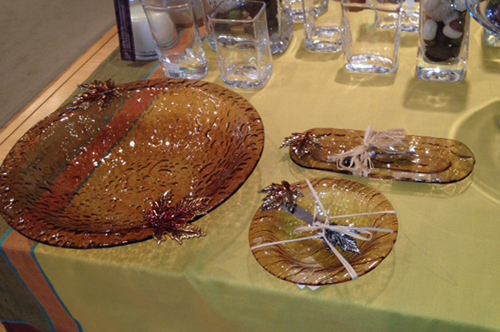 Seasonal linens.
Switching up your table linens is an easy and inexpensive way to freshen your dining room for fall. Our woven Provencal table cloths boast a warm, seasonal color scheme of golds, greens and browns. Or go for something slightly more textural, with a leaf-patterned runner with embroidery or beadwork.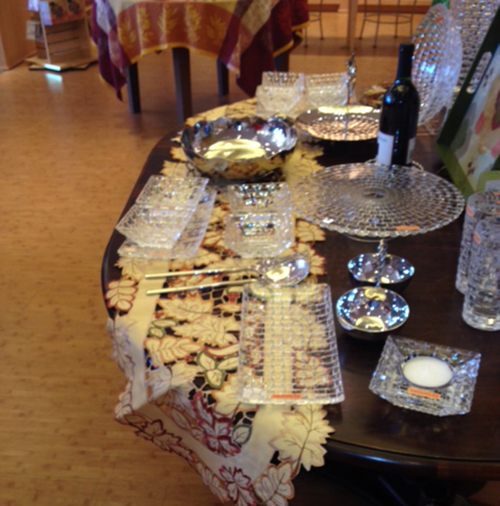 Pattern and color.
Ikat and other traditional Indian patterns aren't normally associated with a particular season, but the square trays from Rock Flower Paper blend ethnic patterns and fall-friendly colors. These have tons of uses, from decorating your coffee table to serving drinks at a party.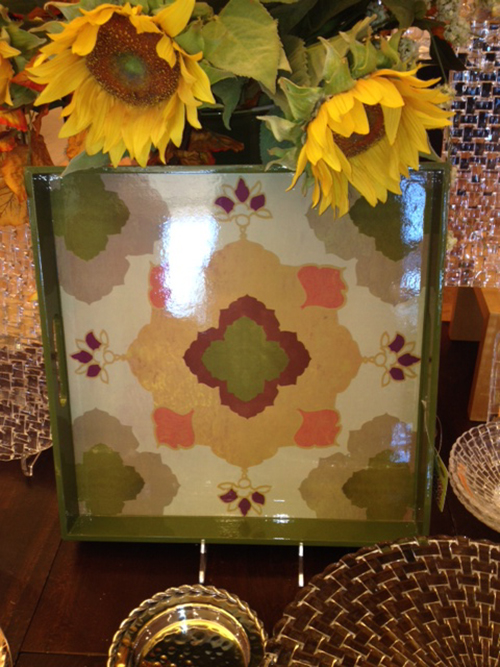 Warm woods.
Rich wood tones seem especially at home in the fall. Nambé's wood-and-metal serving pieces add a warm and rustic touch to kitchen and table. The big salad bowls are also great for displaying apples or pomegranates, fall leaves, stems of bittersweet and other natural elements.
If your home could use a little style transition between summer colors and holiday decor, stop by our Kenwood Towne Centre store and let us show you how to bring fall from outdoors to in.
October Monogram Special: The Sophisticate Wine Decanter
Red wines — especially bold, complex ones — improve in flavor when they're decanted before serving. Our Sophisticate decanter is classically stylish — and it's a great way to serve water or iced tea for family meals, just for fun! In October, choose your monogram style and take 20% off (monogramming included).