Fantastic Gift Ideas for Everyone on Your List
If you haven't been into our Kenwood Towne Centre store, you should absolutely come by … our sales team has created a gorgeous setting of home decor, festive seasonal items and terrific gifts. Our annual Pre-Holiday Sale runs through Sunday, November 24, so you still have time to save on this year's giving and decorating.
As you're making plans for that big Black Friday shopping excursion the day after Thanksgiving, be sure to bring your list in and let us help you find all kinds of unique and special items your family and friends will love. We open at 6 a.m. on Friday, November 29.
Are some folks on your list a little, um, hard to shop for? Here are some of our favorite gift items in the Kenwood Towne Center store right now; we think you'll love them too!
For the wine lover. Connoisseurs can be picky about the wines they drink. Instead of choosing a Cabernet, give your wine-loving friend or relative something to help them enjoy their favorite vintage. Mariposa's wine coaster and stopper in hand-crafted aluminum with their classic String of Pearls design come boxed together in a lovely set. Or consider a set of 4 crystal wine stems — either monogrammed or etched with our 2013 exclusive holiday designs.
For the animal lover. We've created a whole Christmas tree gloriously stuffed with all kinds of animal- and bird-shaped ornaments, from adorable felt mice to blown-glass owls to woodland critters made from natural materials like moss and pinecones. If you have a dog lover on your list, you'll have to check out Mariposa's Woof Woof collection: the retriever-shaped salt-and-pepper set is a howl.
For the hard-to-please guy. Seriously, why are the men in our lives so hard to shop for? Here's a no-fail gift he'll love: a set of 4 crystal rocks glasses monogrammed or etched with our festive holiday designs, and a bottle of his favorite spirit.
For the all-out Christmas enthusiast. You know this person: She goes all-out every year, decking every nook, corner and hallway with holiday finery. Indulge her passion with one of our adorable Santas. We love Silvestri's shaped glass Santa plate (perfect for cookies). Our beautifully crafted Santa figurines have incredible detail, and they're made by Santa's Workshop in Hubbard, Ohio. Or give your Christmas-happy friend a lighted Santa by Beadworx; it's great for a shelf or mantel.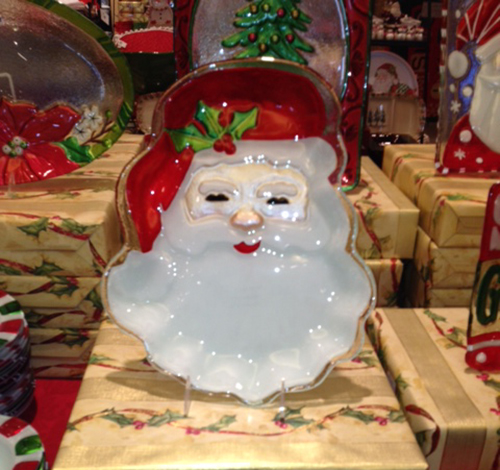 Start planning your holiday gift-giving now, stop in during our sale through November 24, and be sure to visit our Kenwood Towne Center store on Black Friday — we're open from 6 a.m. to 10 p.m. You'll find unique and memorable gifts at great prices for everyone on your list!