6 Special Ways to Celebrate Valentine's Day
The first big special-occasion holiday of the year — one that involves gifts, decorations and a beyond-the-ordinary kind of meal — is upon us: Valentine's Day is here! And it falls on a Friday this year, making for an even more festive celebration of love, romance and relationships.
Valentine's Day can sneak up on our calendar, and it's easy to settle into the same box of chocolates and bouquet of roses that you exchange every year. Take a few minutes now to plan something a little different. Our Annual Clearance Sale at our Kenwood Towne Centre store — going on from February 7 to 22 — can help you celebrate with perfect gifts and decor, all at great savings.
Here are some of our favorite fun ways to celebrate Valentine's Day:
Serve your sweetheart in style. Who cares if it's a work day? Start off right with breakfast in bed — even if it means dishing up the usual cereal, coffee and toast — on a pretty tray with the good china and glassware. We love the patterned lacquered trays from Rock Flower Paper; their square shape is perfect for serving a small meal.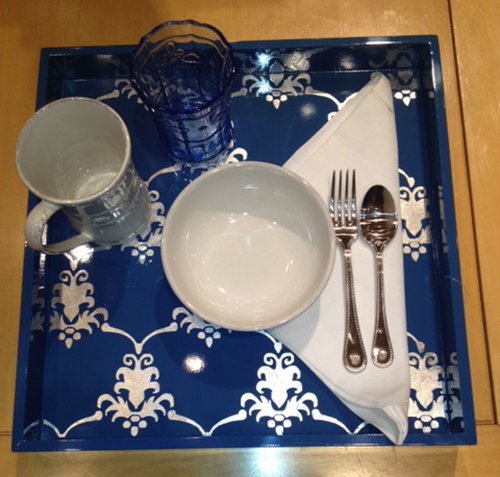 Preserve a memory. You know that sweet snapshot you have of the two of you on vacation last summer? Pop it into a silver frame he'll want on his desk. Mariposa's square frame with a heart-shaped cutout is cute — but not too.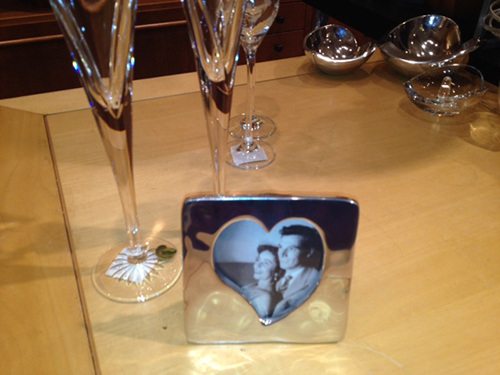 Make the wrapping part of the gift. Chocolates. Flowers. Who doesn't love them? But unless you make them special, they're a bit cliche as far as Valentine's Day gifts go. Present some artisan chocolate truffles in a heart-shaped bowl: We carry several options, from designer Beatrice Ball's hammered aluminum bowl to Nambe's heart-shaped dish in polished crystal. Choose a faceted crystal bud vase to present a single red rose.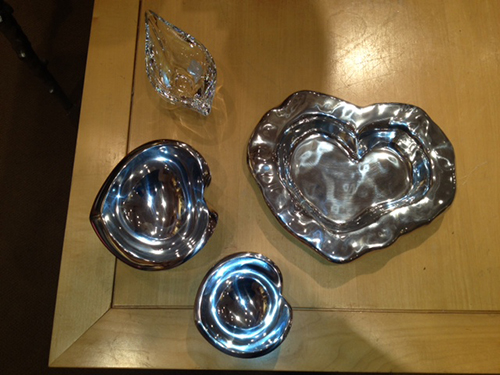 Light a fire. Our store buyer brought in some lovely heart-motif candles, in a delightful scent, just for the holiday. Arrange a grouping of tea lights on the dining table to create an intimate, starry atmosphere for the two of you.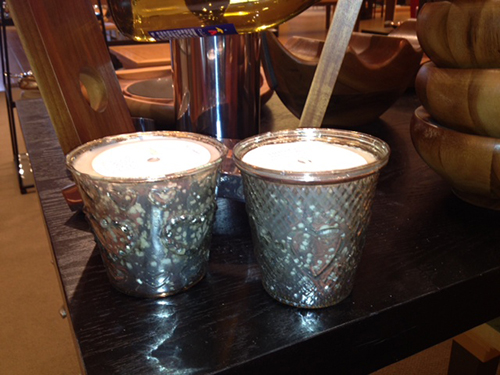 Raise a glass. Add a single, ripe, fresh raspberry or a twist of lemon peel to a glass of Champagne (or California sparking, cava, prosecco or other bubbly beverage of your choice). You know we have lovely Champagne flutes in a range of styles of cut and polished crystal.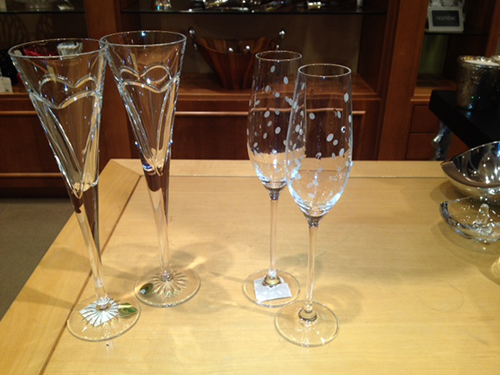 Celebrate with the kids. Instead of (or in addition to) sharing a romantic dinner for two, why not invite the kids? Set a fancy table for dinner, pour them some sparkling grape juice and share a toast. As a fun gift, we have ceramic piggy banks with a pink and red heart motif that the little ones will love.
Take advantage of the Annual Clearance Sale at our Kenwood Towne Centre store to shop for gifts and decorative items — and use your savings to buy a nice bottle of bubbly for your sweetie!