5 Beautiful Ways to Bring Spring Indoors
Spring officially made its debut last week, ending what seemed to be an eternal (and especially nasty) winter. But those of us who know Cincinnati recognize that we're in for a rollercoaster weather pattern of warm/cold, sun/snow for the next month. If that makes you feel a little melancholy, then we invite you into our Kenwood Towne Centre store, where spring has most definitely sprung.
Our team has created gorgeous displays of spring finery and seasonal color that will cure  the worst case of the winter blahs. Among our favorite home and table decorating trends this season:
Botanicals are big. Perfectly in time for spring, we're seeing lots of merchandise with flowers and leaves. We have a lovely assortment of products from Michel Design Works — soaps, towels, trays and accessories — in two botanical patterns: earthy vegetable garden and bold floral garden. We're also featuring items in what we call "veranda style:" bright green fern and leaf patterns that recall a quiet Southern patio. If you love bold color, our collection of TAG tabletop pieces in floral-patterned glass bring pop to your decor.
Color is hot. You'll discover lots of pastels in our store now — soft purples, pinks and robins-egg blue. But color isn't just on the pale end of the spectrum. We've added a new collection of boldly colored serving bowls in recycled glass from Cypress Home; they're great for dishing up salad for a weeknight dinner or snacks for a party. We also love the collection of colorful African-inspired woven baskets from Two's Company.
Texture is trendy. Speaking of woven … texture is a key decorative element this spring. Our store buyer discovered a new line of ceramic vases from Tozai Home, with glazed pom-poms covering the surface for an intriguing look. The "Waves" vases from Two's Company combine two spring trends: bright color and unusual sculptural shapes. You can add a rustic quality to your table with scallop-edged wood-veneer chargers from Two's Company. For a more traditional look, Nachtmann's Bossa Nova collection of crystal serveware has an elegant basketweave texture.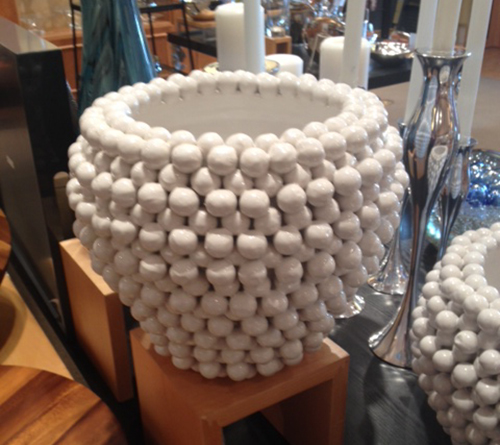 For your holiday table. Food, family and faith are at the center of spring's two celebrations: Easter (April 20) and Passover (April 14-22). So you'll want to create a table that's special. You'll find decorating ideas that range from whimsical (bunnies and eggs) to beautiful (crystal stemware and spring-patterned table linens).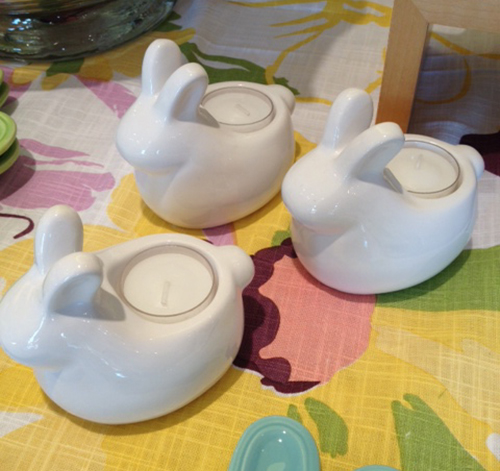 For you. If you're like us, you're tired of the black winter coats and heavy, dark sweaters. In these transitional days, a scarf is the perfect personal accessory to add warmth and a pop of color. We've upped our collection of scarves in pretty colors and patterns. And we're especially loving the soft knit scarves from Noelle — they button at the edges to create a simple poncho-style wrap, and at just $19, they're our favorite spring wardrobe find.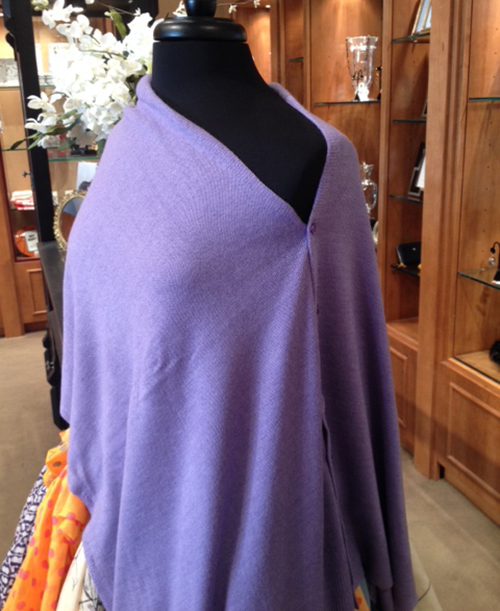 Visit our Kenwood Towne Centre store for all kinds of spring decorating ideas — or just, you know, to get out of the cold.