Over our 111-year history as a family business, Sterling Cut Glass has become Cincinnati's go-to place for high-quality, one-of-a-kind wedding gifts. Brides, their families and friends come to us for our selection of monogrammed crystal glassware, barware and more. Whether you're looking for a traditional gift or something a little unexpected, our staff at the Kenwood Towne Centre store can help you find that perfect, memorable gift. Here are some of our favorite wedding gift ideas—both old and new—this season:
Commemorate the day. Sure, a photo frame is a pretty traditional gift. In addition to classic frames in silver, gold and crystal, we have a very popular alternative: Our wedding invitation frame features a sweeping curve of polished glass, one half etched with a replica of the couple's wedding invitation and the other half framed to display a photo. It's elegant, sophisticated and timeless. Another wonderful wedding-day gift: a pair of toasting flutes. We carry a range of stemware for sparking wine, from whimsical hand-painted bride-and-groom themed glasses to monogrammed or cut crystal flutes.
Stock the bar. This is a popular theme for his-and-her pre-wedding parties, and no wonder. Couples who enjoy entertaining love receiving wine, spirits and the glassware to serve them. Consider giving a case of everyday or special-occasion wine along with a monogrammed wine chiller, or a set of martini glasses and a silver shaker.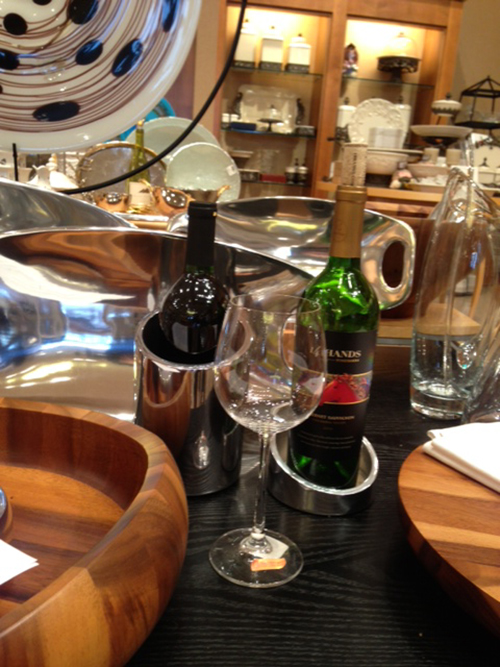 Celebrate their couplehood. We love helping customers select a personalized gift with the couple's new monogram. Our artists can etch three initials on a classic glass serving tray or a set of crystal barware. For a gift that's a little different and truly special, consider our oversized footed "Joyfully United" bowl with the couple's names and wedding date. Want something designer-y and fun? The couple will get a kick out of a large round or square serving plate with a bold "Mr. & Mrs." lettered in black-and-white.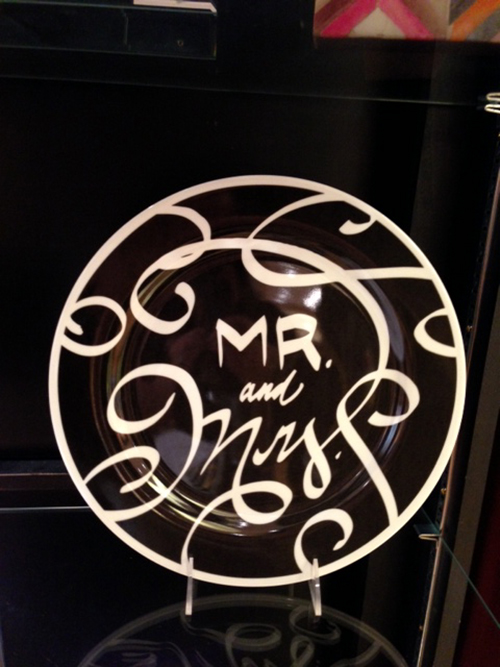 Shine a light. Candles help create a warm and inviting glow in a couple's new home together. For a welcome and unconventional gift, assemble a collection of candles and holders—tapers and candlesticks, votives and tealights, hurricanes and pillars.
Combine beauty and utility. Consider a gift that does double-duty as a functional item and a decorative object. We carry a line of spectacular art-glass pieces that can go from display shelf to dinner party. An oversized metal tray can hold candles on a low table, or appetizers on a buffet.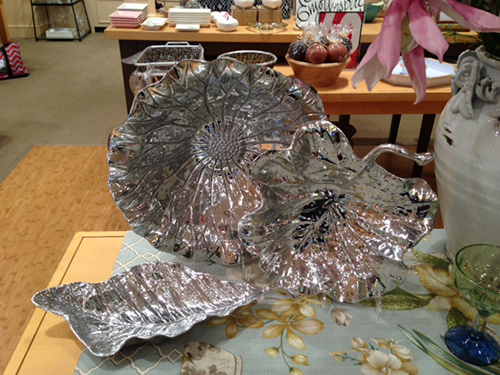 Mark Your Calendar for our Semi-Annual Clearance Sale
Our Clearance Sale is such a big deal, it only happens twice a year! From July 19 to 28, you'll enjoy 40% to 75% savings on a range of products, including:
Discontinued and overstock merchandise from our top vendors
Crystal, metal and ceramic tabletop and serving items, decor and barware
Seasonal items
Home decor and art objects
Plus lots of exclusive, one-of-a-kind items
Join us July 19 to 28 and stock up on gifts, fun things for your home and other must-haves, all at great savings.
July Monogram Special: Summer Pitcher
Lemonade, sangria, iced tea … whatever your cool drink of choice, serve it in style with our classically shaped monogrammed pitcher. Select your monogram, and in July, this entertaining essential—a brand-new item—is just $36 (regular price $45), or 20% off.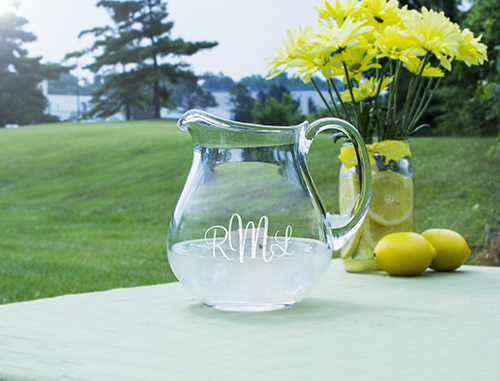 Vendor Spotlight: Charley Harper + Todd Oldham + Fishs Eddy
It's a match made in heaven: the studio of the late Cincinnati wildlife artist Charley Harper, fashion designer Todd Oldham and dishware manufacturer Fishs Eddy have teamed up to produce a fantastic line of tabletop items embellished with Harper's delightful artwork. Oldham discovered the artist's work, and the two struck up a collaboration for a few years before Harper passed away in 2007. With bright colors and whimsical, graphic images of birds and fish, the Fishs Eddy line includes great accent pieces to complement your kitchen and table. We're particular to the small serving trays, which are perfect for entertaining, and the mugs that liven up your morning coffee.
Break out the flip-flops, barbecue tongs and margarita glasses: Summer entertaining season is in full swing! Whether you're hosting family grill-outs, neighborhood potlucks or cocktails by the pool, we have everything you need to stay cool, have fun and party in style. Here are 5 of our favorite summer entertaining ideas: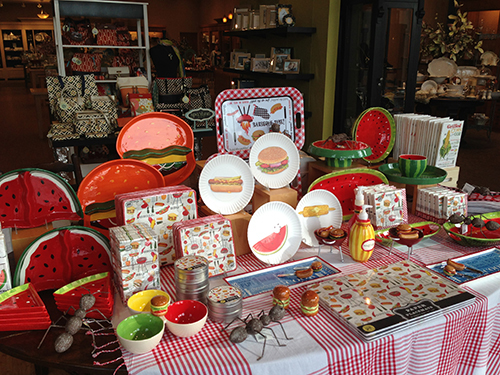 Step up from paper plates. We're crazy about the incredibly high-quality melamine dinnerware that's available this season, in styles ranging from beachy to sophisticated. If you think of melamine as barely a step above paper plates, think again. This new breed of melamine dinnerware is thicker, heavier and more durable than previous versions. And it's still a great value, so it's easy to stock up on all your party ware needs. We're especially excited about two brands of melamine dinnerware that we're stocking now: Michael Aram's gorgeous pieces that echo the designs of his fine china (with great shapes and textures), and Kim Seybert's great coral-themed patterns.
Bring the beach home. Can't get to the beach this summer? Bring the beach to you! Nautical, ocean and marine life motifs are very trendy in housewares and home decor this season. But the look is fresh, not kitschy. Kim Seybert's fantastic collection of coral-adorned outdoor dinnerware brings a bold splash of color. We're also liking the ocean-themed serveware from Annieglass (which donates a portion of sales to the Monterey Bay Aquarium).
Go south of the border. The bold primary colors and graphic patterns of Spanish and Mexican decorative arts make a perfect focal point for setting an outdoor table. Think of bright napkins and tablecloths, and serving pieces with pops of hot color. You'll definitely want a pitcher of sangria or margaritas for your summer party. (See below for store manager Linda Zeff's killer sangria recipe.)
Blur the line between inside and out. We're living outdoors more than ever, and the range of high-quality outdoor furniture and textiles is a testament to that. So find ways to entertain seamlessly between your indoor and outdoor spaces. Move some of your favorite decorative elements from inside the house to an outdoor porch. Use flowers and veggies from your garden as centerpieces on your dining table.
Serve with style. Entertaining can be tricky during these balmy days of summer. But a few key pieces will help you beat the heat. Keep your party drinks cold: Keep bottled drinks cold in a big ice bucket, and use a Corkcicle (one of our favorite useful kitchen gadgets) to keep white wines well-chilled. A terra cotta wine cooler will keep red wines at just the right temp.
Don't Forget Dad!
Father's Day is Sunday, June 16, and we have a range of great gift ideas for dad. We  suggest a few great gift pairs:
— an assortment of local craft beers and a set of 4 monogrammed beer mugs or pilsners
— a bottle of his favorite spirit, and a set of 4 monogrammed crystal rocks glasses
— a frame and a gift certificate for a family portrait at your local photo studio
— tickets to his favorite local football team and a set of tumblers with Ohio State or U.K. logos
Looking for a Wedding Gift?
We're ready to help you find that perfect present for summer brides and grooms, regardless of whether they're registered with us. Stop by our Kenwood Towne Centre store and choose a personalized gift with the couple's new monogram; it's such a special way to celebrate their union. They'll remember your thoughtfulness for years to come.
Linda's Sangria
This white wine sangria is full of fruit and beautiful when served from a big glass pitcher. Use inexpensive wine and liqueur, and ample amounts of fruit. It's cool and flavorful—but it packs quite a punch!
(Serves 8 to 10; can be doubled for a larger party)
1 750-ml bottle inexpensive Spanish white wine, well-chilled (avoid super-dry white wines like Pinot Grigio)
1 cup inexpensive brandy
3/4 cup triple sec
10 cups mixed fresh fruit (berries, apples, oranges, pineapple)
1 cup fresh mint leaves
club soda to taste (optional)
Measure 6 cups of fruit; use a potato masher to smash it into a rough puree. In a large pitcher, combine wine, brandy, triple sec, mint leaves and muddled fruit. Refrigerate sangria until serving to blend the flavors and thoroughly chill it. To serve, place several pieces of fresh fruit into each glass and top with cold sangria and club soda to taste (if desired).
June Monogram Special: Monogrammed Glass Trays
Our monogrammed glass trays in oval, round, square and rectangle shapes, are perfectly sized for serving desserts, hors d'oeuvres or cut fruit. Choose your monogram style, and in June, enjoy 20% savings on your monogrammed glass tray.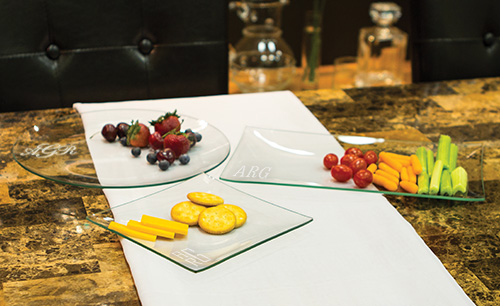 Vendor Spotlight: Bigwood Boards
If you're entertaining this summer, you'll want a gorgeous maple server from Bigwood Boards. These monogrammed wooden cutting/serving boards are made in Vermont, machined from pure hardwood and hand-sanded to a beautiful finish. The boards feature rubber feet for stability, a "juice trough" around the perimeter to keep your table clean, and they're available with or without handles. Bigwood Boards can be personalized with a single initial or three-letter monogram. These multi-purpose boards are perfect for serving breads or appetizers in the summer, and for carving roasts during the holidays. Special: Visit our Kenwood Towne Centre store and mention this message, and receive 20% off your purchase of a monogrammed Bigwood Board.
You'll want to mark your calendar with two big events in May: Mother's Day, of course (that's Sunday, May 12) … and our special Mariposa May event, which runs May 1 through 31.
We think it's a great thing that these two special events coincide, because Mariposa, one of our favorite vendors, offers some terrific tabletop and decorative items that Mom will love.
Even better: We're offering two gifts with purchase during the Mariposa May event: With any $75 Mariposa purchase, you'll receive a tealight candle in Mariposa's String of Pearls design as our gift (that's a $25 retail value). Spend $150 on Mariposa, and you'll receive a Mariposa napkin box (a $48 retail value). Gifts are available while supplies last.
And be sure to stop in our Kenwood Towne Centre store during May to enter our Mariposa raffle: You may win a large bowl, little bowl and salad servers in Mariposa's Wavy Collection (a $250 retail value). The drawing will be held on June 1.
We can help you find the perfect gift for Mom, whether she loves Mariposa or any of the other designer brands we carry. Here are some of our favorite Mother's Day gift ideas:
Great gifts from Mariposa: We can't get enough of this specialty brand's gorgeous items, which are available at all different price points. Mariposa's elegant napkin box in hand-polished metal comes with cocktail napkins and a decorative weight to keep them tidily in place. Their scented soy candle is another terrific gift idea: The candle burns for 50 hours and comes topped with a pretty, sculpted lid in flower and beach designs. When the candle has burned, Mom will have a keepsake jar. For fun, bake Mom a dozen cupcakes and present them on Mariposa's three-tier cupcake stand in the popular String of Pearls design. If she's a wine lover, she'll appreciate a wine coaster and bottle stopper, also in the String of Pearls collection. Is she a gardening fanatic? She'll love Mariposa's gorgeous enamel flower bowls — a great gift at just $44.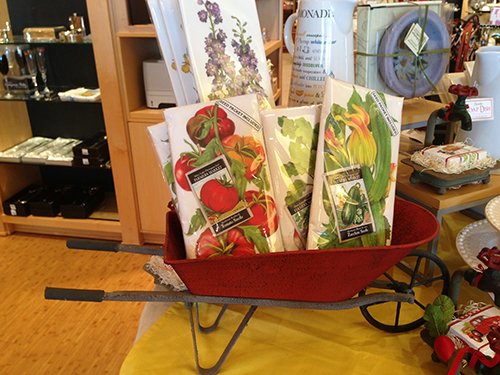 More fun ideas for Mom:
For your fashion-forward mom: a tote with matching zippered clutch or scarf from Spartina's newest spring collection.
For your family-oriented mom: a silver photo frame with a gift certificate to a local photo studio.
For your active mom: a necklace or bracelet made up of charms that represent her favorite activities and hobbies.
For your gardening mom: printed flour-sack towels with a vintage seed packet — real seeds included!
For your flower-loving mom: a bunch of spring flowers in a pretty vase. A couple of our favorites:
• the heart-shaped bud vase from designer Simon Pearce (made in the USA of hand-blown glass and signed by the artist)
• Miller Rogaska's cut-crystal bud vases have a pretty flare at the top
• Nambé's Globe bud vase is modern and breathtaking, a great way to display a spray of orchids.
Stop in our Kenwood Towne Centre, and we can help you choose the perfect gift for Mom (we'll wrap your gift, too). And you can treat yourself, too, with our gift-with-purchase Mariposa May event, through May 31.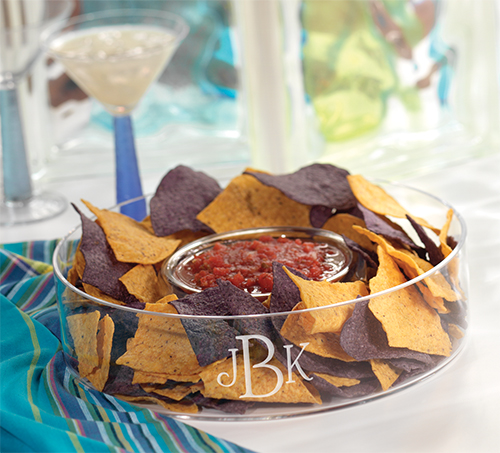 May Monogram Special
Get a jump-start on your summer entertaining, with our terrific price on a monogrammed chip-and-dip set. Regularly $50, it's on sale for $40 during May — monogramming included.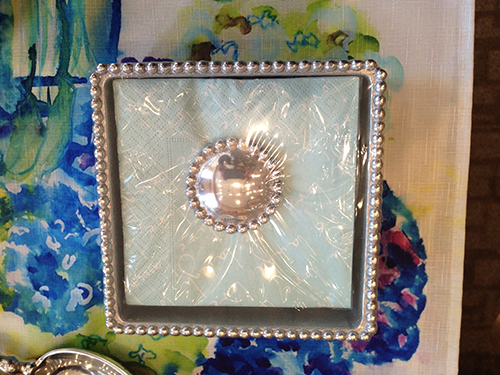 Vendor Spotlight: Mariposa
We're celebrating one of our favorite vendors in May: Mariposa. Mariposa is all about the art of entertaining. Mariposa products are all handmade, the majority from 100% recycled materials. No two pieces are ever exactly alike. Founder Livia Cowan was inspired by a trip to Mexico to establish Mariposa three decades ago, after falling in love with handcrafted decorative items there. Three designers now collaborate on the full Mariposa collection, which includes serveware (canape plates, sauce dishes, salad sets, platters and bowls), decorative items (jar candles and tealights, frames and ornaments) and barware and glassware. Mariposa's designs are inspired by nature and texture: floral elements, beach themes and linen. We love how Mariposa lets our customers live and entertain — beautifully.
Linda Zeff, the manager of our Kenwood Towne Center store, has the enviable task of visiting national home and gift shows, where brands and manufacturers present their latest products to retail buyers. Several times each year, Linda heads out on buying trips where she scouts new trends and selects great gifts, tabletop and decorative items to feature in the store.
Linda's spent quite a bit of time on the road in recent weeks, visiting showrooms and merchandise marts in New York and Atlanta. Here are some of the key trends she's spotted, along with ideas for bringing the latest styles into your home.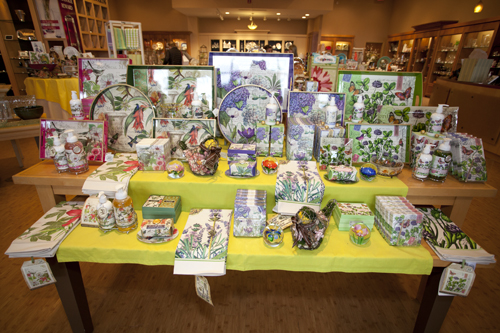 It's easy being green. Pantone, the color authority, has named Emerald Green the color of the year. And it's not just that deep, rich hue — green is showing up in a bunch of variations and in all kinds of ways. Emerald is a strong color, and it's best used as an accent (think: a bold throw pillow on a neutral sofa). We're also seeing softer, more natural greens, like moss and leaf.
How to apply this trend at home: Think of green as a supporting player. Add a subtle touch to your table by mixing the color into your place-settings; we love Juliska's pretty green glass accent plates, and their soft, mossy-colored ceramics. Look for decorative napkins and linens with a touch of green.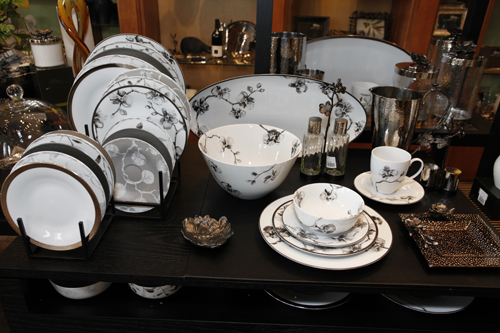 Nature is right at home. Linda's been watching the natural trend for some time now (LINK TO THE AUGUST POST ON TRENDS?), and there's no sign of it stopping. Natural motifs are pretty—and they're super-flexible; they can go retro (classic botanicals) or modern (clean shapes and bold lines).
How to apply this trend at home: You simply can't go wrong in adding a touch of nature to your home or table. We're especially excited to carry designer Michael Aram's new line of dinnerware — his mix-and-match collection in shades of gray, pewter and silver is simply stunning. There's a strong natural element in all of Michael's work, and this collection includes designs called Black Orchid, Olive Branch and Botanical Leaf.
We're also fond of the latest Charley Harper serving items, which are new to our store. Harper is a Cincinnati artist, and his bold, graphic illustrations of birds, animals and plants are colorful, fun and timeless. If you want something a little more formal (but still charming), we recommend Mariposa's gorgeous enameled flower platters and bowls (check out the super-cute salad set, too!).
For gift giving, our assortment of pretty floral decoratives from Michel Designs are perfect. These botanically-themed soaps, towels and decoupage glass trays have classic floral designs. Too, you can dress up your home and table with Betsy Drake's line of hydrangea patterned table linens and indoor-outdoor rugs/pillows, with pops of purple and trend-setting green.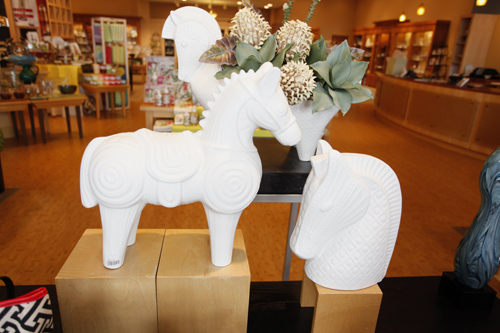 Big and bold are trendy. Linda spotted many large-scale, statement-making decorative pieces at the recent shows, and we've brought some really impressive items into the store. These eye-catching decorative elements can be displayed on a pedestal, a deep bookshelf or a mantel — anywhere you want to add visual impact, fill a space and grab attention.
How to apply this trend at home: One of our favorite designers, Jonathan Adler, blends two trends — nature and size — in his wonderful animal sculptures in matte-glazed ceramic. These are true statement pieces, but their neutral color keeps them from overwhelming a bookshelf or mantel. If you want "wow" — look for our new collection of mouth-blown glass vases (up to 3 feet tall!), bowls and platters in remarkably vibrant colors. For the table, we love Beatriz Ball's huge leaf platter, another marriage of natural theme and large scale.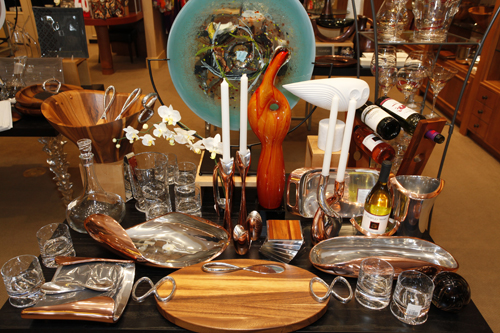 Blending formal and casual is "in." The trend in home and table decor right now has moved away from "matchy-matchy" to a more eclectic style that mixes high and low design styles. What's great about this trend is that it gives you permission to mingle your favorite looks together. There's no wrong answer. And it's a great opportunity to add interest by mixing a few new pieces into what you already have.
How to apply this trend at home: Now that spring's formal holidays are behind us and the season is transitioning toward warmer weather, entertaining starts to become a little more casual. But that doesn't mean shelving the good crystal until fall. What's in now is to blend high and low styles. Our curvy and casual wood-and-metal Nambé serving pieces, for example, look right at home on the table with monogrammed crystal stemware. Juliska's lovely dinnerware works beautifully with a rustic table runner and napkins. Mix and match to suit your style.
Visit our Kenwood Towne Centre store in to see all the new items Linda has found to bring back to Cincinnati, including the latest Spartina handbags and scarves, great jewelry and fabulous gift ideas for Mother's Day.
Vendor Spotlight: Michael Aram
Inspired by a trip to India, sculptor Michael Aram turned his artistic focus toward the kinds of metalworking that he saw there, and he set up a home and workshop in New Delhi. Michael works with a group of talented craftsmen to create items for the home and table that are inspired by nature and rendered in mixed media. Michael Aram's designs incorporate botanical elements like flowers, leaves, twigs and branches, which grace elegantly shaped snack dishes, coffee sets, platters, cocktail accessories, frames and more. New for 2013: Michael Aram's dinnerware collection offers a mix-and-match array of leaf and flower designs in delicate shades of gray with silver and pewter accents.
As we settle in for a long winter, the busy-ness of the December holidays behind us,  Valentine's Day can sneak up on us. Particularly when it falls on a weekday, this heart-warming holiday may escape our attention, or not be as special as it could be.
So plan now to make Valentine's Day a romantic occasion for just the two of you (or feel free to invite the kids into a celebration of your whole family). The team at our Kenwood Towne Centre store recommends 8 great Valentine's Day gift ideas for your loved one(s) and shares 4 ways to create a romantic table setting at home.
Great Gift Ideas
For more than a generation, Sterling Cut Glass has helped you celebrate with just the right gifts, and we're happy to share some traditional Valentine's Day ideas—and some fresh ones, too.
For him:
Guys rave about our etched crystal barware (according to the ladies who tell us about their gift-giving successes). If your man has embraced the current cocktail craze, then a bottle of fine spirits and a set of monogrammed rocks glasses make the perfect gift. Is he a "shaken, not stirred" kind of guy? Then he'll love our monogrammed martini glasses. If he's already stocked the bar, then an elegant silver frame with a family portrait or casual photo of the kids makes a wonderful token of love.
For her:
Men, you should know that chocolate is always in style for Valentine's Day—but please, not the drugstore kind. Select your sweets from a chocolatier or gourmet shop, and then present them wrapped with a little decorative tray from Mariposa or one of our monogrammed crystal bowls. Does she love flowers? Stop into our Kenwood Towne Centre store and we'll help you choose the ideal crystal vase.
For moms, sisters and girlfriends:
The women in your life will appreciate little Valentine's Day gifts that tell them how much they mean to you. Jewelry is always welcome—and we have a terrific assortment of necklaces, bracelets, rings and earrings in styles from simple to blingy and at super-smart prices. Have a sis who's crazy about handbags? We're keen on the Spartina line of coordinating purses and scarves.
Bring Romance Home
Valentine's Day falls on a Thursday this year, and for most of us that means that a fancy night on the town is out of the question. So why not create the perfect romantic dinner at home? Creating a special meal for two doesn't have to be complicated (and it's certainly less expensive than dining out). Here are some easy decorating ideas for setting your table on Valentine's Day:
Find the perfect dining spot. Instead of the big dining-room table, consider an alternative spot for your romantic meal. You can dress up a side table in the living room with nice linens, pretty place settings … and of course LOTS of candles. Pull in two dining chairs, and you have an intimate nook for dinner.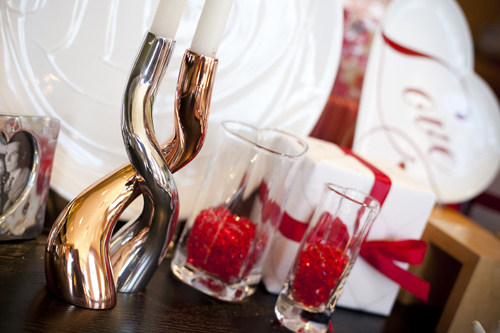 Use the good stuff. Sure, it's a Thursday. Bring out your best crystal stemware, your wedding china, the silver flatware—the "good stuff" you reserve for special occasions. If Valentine's Day isn't a special occasion, what is? Toast your relationship with a pair of Champagne flutes; consider Italian sparkling Prosecco as a delightful variation on pricey French bubbly.
Decorate the perfect table. Candles. Lots of candles. Arrange a glowing centerpiece with votives, hurricanes and candlesticks in a range of heights and styles. Or set pillar candles and tealights directly on a shimmery silver platter. Add a dozen red roses in a cut-crystal vase. Or place a single rose at each place setting.
Invite the kids. Since you're celebrating Valentine's Day at home, consider involving your kids. Let them help plan a festive meal and sip sparkling grape juice. During dinner, ask everyone to share what they love about your family.
Visit our Kenwood Towne Centre store or shop online (HERE) for more terrific Valentine's Day gift ideas and the inspiration you need to create a romantic dinner at home.
Our January Monogram Special—the classic Broadway Frame etched with your choice of type styles—makes a great Valentine's Day gift.
If you're like us, no matter how organized we are with gift lists and shopping gameplans, we always manage to forget someone. Maybe it's a small token of thanks for the hosts of a holiday party. Or the brother and sister-in-law who just announced plans for a visit. Or we need a small gift for a teacher or babysitter.
With Christmas just five days away, we'll be using this final pre-holiday shopping weekend to find a few important last-minute gifts. Fortunately, waiting until December 20th (or 24th!) doesn't mean you'll have a limited selection of great presents to choose from. And at our Kenwood Towne Centre store, you'll find some great prices, too.
So don't stress about your final holiday shopping. We've browsed the store to find some excellent recommendations for small gifts for everyone on your list. They'll never know you waited until the last minute.
Hand-etched crystal gifts. Artisans in the Sterling Cut Glass workshop have spent months creating beautiful, gift-able crystal items featuring our exclusive designs. Our Cincy Scenes collection celebrates notable architectural gems of our hometown—find these designs on serving trays and bar glasses. And our extensive Holiday Collection includes bowls, wine stems and barware with festive seasonal designs. Our 2012 commemorative holiday ornament, available in a limited edition, makes a wonderful gift for a teacher, sitter or officemate. Better yet: Many of our hand-etched crystal items are available pre-wrapped in festive paper for easy giving.
Edible gifts. A batch of cookies—homemade or purchased from your favorite bakery—is always a welcome gift during the holidays. Instead of presenting your sweet treats in a ho-hum plastic container, get a little more creative with your packaging. Arrange them on a pretty glass plate with a holiday design or a shimmery silver tray, cover with plastic wrap and then tie the gift up with a pretty satin bow. If you're asked to bring an appetizer to a party, bring a set of 4 crystal highballs filled with different kinds of nuts. Almost any kind of food gift can be elegantly packaged in a serving bowl or platter to make it truly special.
Hostess gifts. For friends who love entertaining, we have a broad assortment of perfect presents, from decorative wine stoppers and holiday-themed cheese knives, to pretty serving pieces with seasonal designs (we're especially loving the painted glass plates from Annieglass and the mixed-metal pieces from Wendell August).
Little gifties. Here's a gift-giving time-saver: Stockpile a few small items that you can wrap and give when that unexpected opportunity arises (like, you draw the name of your husband's cousin in the family gift exchange). Choose gifts that are universally appealing: a candle scented in wintery fir or rich spice; a small decoupaged tray with a quality hand-milled soap; a silver picture frame.
Wearable gifts. Our collection of jewelry is always changing, and we like to appeal to a broad array of tastes. You'll find necklaces, bracelets and earrings in a range of styles and price points: simple silver charms, crystal drops, big glass beads and more.
Stop in our Kenwood Towne Centre store to find all kinds of appealing last-minute gifts in all price ranges. We can wrap your gift for you! Plus, we've taken markdowns on a large selection of holiday merchandise! We'll be open for extended shopping hours:
Friday, December 21  9:00 a.m. to 10:00 p.m.
Saturday, December 22  8:00 a.m. to 10:00 p.m.
Sunday, December 23  10:00 a.m. to 9:00 p.m.
Monday, December 24  8:00 a.m. to 6:00 p.m.
And we can wrap your gift for you.
Don't forget our December Monogram Special: Enjoy 20% off our classic monogrammed Harmony bowl. And be sure to shop online for our collection of hand-etched crystal stemware and serveware with our exclusive holiday designs (HERE).
Happy holidays from all of us at Sterling Cut Glass!
'Tis the season to sparkle and shine, no matter which of the December holidays your family celebrates. Throughout the month, we'll be gathering as families and friends to celebrate—crowding into warm kitchens, settling around dining tables, enjoying each other's company.
If you're hosting a party this month, large or small, then you're looking for decorative touches that will make your home and table truly special. Linda Sacolick, the manager and buyer for our Kenwood Towne Centre store, keeps her eye on decorating and entertaining trends, and she shares five great ideas for creating a beautiful setting this season.
Linda suggests mixing tabletop and decorative items you may already have—particularly if they're family heirlooms or beloved holiday treasures—with a few new elements that are trendy and fun. There's no wrong way to decorate for holiday entertaining—just incorporate things you love in a way that feels good to you. A few ideas to get you thinking:
Go for the gold (and silver). Take a break from traditional holiday colors and set your table with shimmering silver and gold. You can skip the formal tablecloth and set place-settings directly on the table for beautiful contrast between sparkle and wood. Or use our shimmery silver-and-gold round placemats. We're also loving this season's collection of dining and serving pieces from Annieglass, which have silver or gold ornamentation on frosty glass. Accent your table with sparkling cut-crystal wine or champagne glasses, your best silverware—and don't forget lots of candles to make all that bling really shine. Silver and gold make a stunning decor for a romantic New Year's Eve dinner for two or festive party.
Mad for plaid. Plaid (along with houndstooth and other preppy patterns) is in this season—but with a modern twist. Juliska's pretty plaid table linens (shown below) would look at home even in the most contemporary home, thanks to an unexpected color combination of red and black.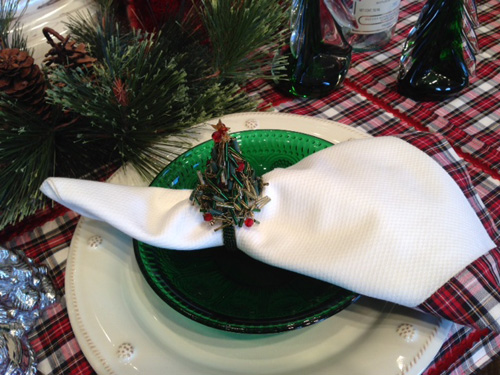 Rose-colored glasses. Colored glass dining and serving pieces and other table accents in rich jewel tones remain trendy, thanks to the ongoing popularity of retro and vintage-style decor. Tap into the trend by setting your table with pretty glass plates in deep red and green (shown above), along with tinted glass candlesticks, glass-handled salad servers and other coordinating items.
Don't overlook the details. They're what sets a special holiday dinner apart from an ordinary family meal. Here's where you can incorporate small, inexpensive items into table settings that you already have. Pick up a few holiday ornaments to use as placecard holders. We're also loving the sparkly Christmas-tree napkin rings we're carrying this season (shown above). Festive servers for salad, cheese and dips add a fun touch.
Pick a theme. If you want to keep your place settings simple, then consider a themed centerpiece to wow your guests. It's easy to put together: Just arrange a collection of similar items, in a range of different sizes, in the middle of your table or the center of your buffet. A few ideas: old-world nutcrackers, holiday houses, glittery glass trees, oversized Christmas bulbs or a big vase of ornaments.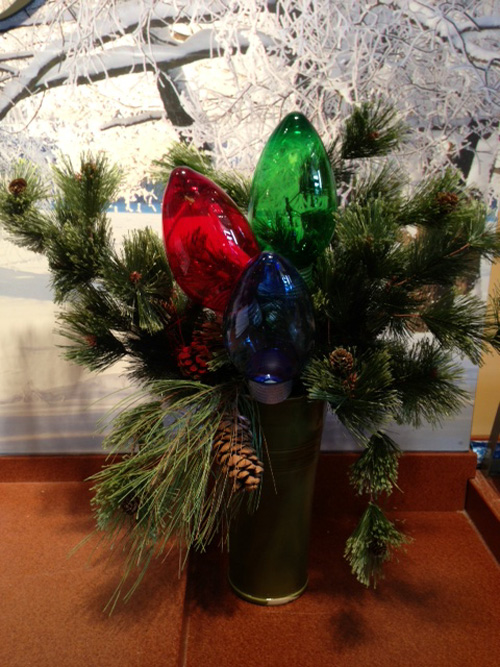 Stop in our Kenwood Towne Centre store to find all kinds of beautiful items for your holiday entertaining in all price ranges. Linda and her team of sales consultants can help you create the perfect table. Plus, we've taken markdowns on a large selection of holiday merchandise!
Don't forget our December Monogram Special: Enjoy 20% off our classic monogrammed Harmony bowl. And be sure to shop online for our collection of hand-etched crystal stemware and serveware with our exclusive holiday designs (HERE).
Happy holidays from all of us at Sterling Cut Glass!
Even now, just a few days before Thanksgiving, stores are sparkling with all kinds of holiday decorations (including our shop at Kenwood Towne Centre, of course). The holidays always seem to sneak up on us, so it's not too early to think about sprucing up your home in anticipation of hosting friends and family for winter gatherings.
Our store manager, Linda Sacolick, offers up some of her best seasonal decorating tips:
Bring the outside in. Fall and winter offer gorgeous options for bringing nature into your home. Think holly branches, clusters of dried hydrangea, colorful dried corn and fall gourds. Place potpourri and mini Indian corn in a big bowl for Thanksgiving, or scatter pine sprigs among an arrangement of candles. Use natural materials from your own garden or look for high-quality artificials.
Go for the glitter. For Christmas, Hanukkah and New Year's celebrations, sparkly is good, and super sparkly is even better. Maximize the sparkle and shine in your holiday decor by placing glittered candles and seasonal accessories on tabletops and bookshelves.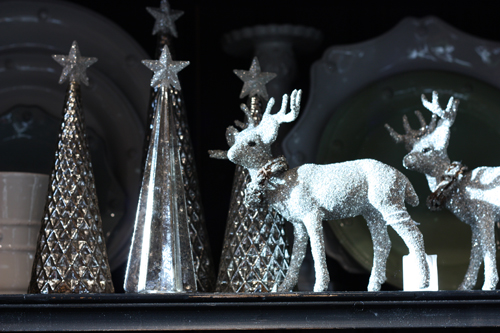 Consider your guests. Create a special atmosphere at home with seasonal soaps, linens for the guest baths and other welcoming treats.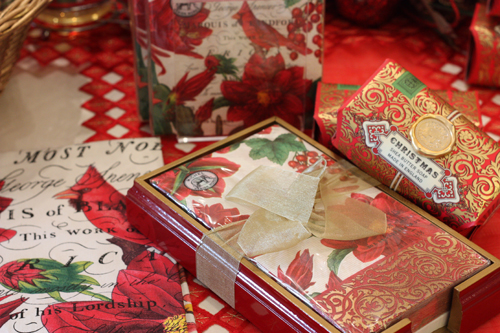 Add a touch of whimsy. After all, the holidays are all about festivities and celebration, so add a light bit of cleverness or charm. We're especially loving this traditional Christmas wreath with quality artificial greens and the unexpected addition of faux reindeer antlers.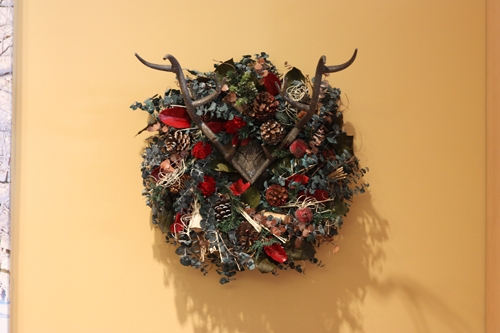 Decorate in multiples. Don't just place one candle on a mantle; use several, in odd-numbered multiples. Or create groupings of several items in a single color like deep red or shiny silver. Just for the holiday season, we've brought in a collection of colored or painted glass candle holders that contain electric candles or clusters of mini lights—they're easy to decorate with and are proving quite popular.
Looking for more home decorating ideas and inspiration?
Our Kenwood Towne Centre store is bedecked with all things festive, whimsical, glittery and glowing—all in time to help you create a beautiful and welcoming home. Stop in to find your new favorite treasures.
And be sure to browse our collection of Sterling Cut Glass crystal gifts, serving pieces, barware and wine glasses, all etched with our exclusive holiday designs—and of course, our 2012 limited edition crystal Christmas ornament. (HERE)
For months, our team of artisans has been hard at work hand-crafting our collection of holiday-themed etched crystal stemware, bowls and ornaments. Sterling Cut Glass is known for elegant and high-quality monogrammed crystal, and we turn that same attention to detail to our unique holiday designs. You won't find these wonderful designs anywhere else — and they make treasured gifts or special additions to your holiday table.
For a limited time only, our exclusive holiday designs are available in our Kenwood Towne Centre store and online (HERE) — and throughout our Pre-Holiday Sale (now until November 18), all these items are on sale at 20% off!
Our one-of-a-kind holiday designs include:
And, of course, our classic limited-edition ornament with our exclusive holiday design. Now in its 29th year, our keepsake ornament is a Cincinnati family tradition. This year's creation features a calligraphic dove and olive branch, the universal symbol of peace, etched onto fine crystal. We've created just a few hundred of these special ornaments, so shop now while supplies last. (And our crystal Christmas ornament is on sale for just $25 during our Pre-Holiday Sale through November 18). Start your collection or add to it!
Shop our Holiday Collection online (HERE), where you'll find many of these items with gift packaging included. Or visit our Kenwood Towne Center store to explore our full array of holiday tabletop items, decorative accents, fashion accessories and special gifts.
Save 20% on nearly everything in the store during our much-anticipated annual Pre-Holiday Sale, now through November 18.
Our annual Pre-Holiday Sale is big — and it's happening now for a limited time. Between November 5 and 18, you'll enjoy 20% discounts throughout the store.
This is our most important sale of the year, when we offer great savings on nearly everything in our Kenwood Towne Centre location. That includes our most popular vendors (sshh … we can't name names) and our most sought-after items. And yes, it includes our entire exclusive line of custom monogrammed stemware, serveware and gift items—which are only rarely discounted.
Our holiday helpers have been hard at work turning the store into a wonderland of home decor, beautiful gifts for everyone on your list and perfect accessories to make your holiday meals truly special. (Just wait 'til you see our festive store window displays!)
Here are our Top 5 Ways to Enjoy Our Big Pre-Holiday Sale:
1) Shop for your table. Just in time for the year's biggest family food gatherings, you'll create table settings in style—at great savings. We have a fantastic assortment of tabletop items: beautiful hand-carved wooden salad bowls, winter-themed serving pieces in mixed metal designs, pretty table linens, crystal stemware, and so much more.
2) Shop for your home. As you welcome guests into your home during the coming festivities, you'll want to create a warm and inviting environment. Kitchen items, decorative pieces, photo frames and accents—we have it all, in both holiday and traditional designs.
3) Shop for the holidays. We're taking 20% off all our brand-new holiday items, so you don't have to wait until January for great buys on seasonal goods. Browse our displays and get tons of great ideas for decorating with holiday flair. The Pre-Holiday Sale includes our huge collection of unique Christmas ornaments and our gallery of beautifully designed menorahs.
4) Shop for your family and friends. You're making your list … and you can check it off with great prices on unique gifts. For gifting inspiration, check out our recent Holiday Gift Guide (HERE). Plus, we have a selection of pre-wrapped gifts to make giving extra easy.
5) Shop for yourself. Because, well, we think you deserve a little something-something. Choose from our wonderful collection of jewelry (from simple to blingy), fabulous clutches, handbags and scarves—all at 20% off.
Bring your gift list, your decorating to-do list, your holiday wish list … and whatever other lists you have … to our Pre-Holiday Sale at the Sterling Cut Glass store at Kenwood Towne Centre, now through November 18.