These days, with online gift registries and wish lists, it can be hard to find a present that's truly surprising, something that delights the recipient. As we enter a season of giving, you'll be on the lookout for goodies that everyone on your list will treasure. And we've got some fun, unique gifts for every occasion, whether it's winter birthdays; Christmas, Hanukkah and Kwanzaa; hostess thank-yous or, well, just because.
Even better: If you shop during our famous Annual Pre-Holiday Sale, November 5 through 18, you can save 20% on nearly everything in the store.
In search of that perfect gift? Look no further! Here are some of our favorite gift items in the Kenwood Towne Centre store right now; we think you'll love them too!
For the fashionista: If you haven't been to the store for awhile, you'll be surprised by all the great fashion accessories manager Linda Sacolick has been bringing in. We're especially loving a line of handbags and clutches from Spartina, along with gorgeous coordinating scarves.Or, our collection of jewelry, including beautifully simple sterling or gold-plated initial pendants with crystal drops from Lotus, is ideal for gift-giving. Great price points, too.
If your recipient wears accessories with lots of flash, then she'll love our gorgeously iridescent necklace of faceted crystal beads woven with fine silver chain. A fabulous new collection of clutches from Wendell August really make a statement, in handtooled metal or in cute "girlfriend" patterns.
For the wine lover: Sure, a bottle of wine is nice this time of year. Dress up your gift with a remarkable wine coaster or bottle stand from one of our favorite designers, Michael Aram. A set of custom monogrammed stemware is always a welcome gift (and monogrammed items are 20% off during our Pre-Holiday Sale).
For festive friends and family. Our Sterling exclusive annual holiday ornament is back, now in its 29th year. This year's unique design features a beautifully calligraphic dove with olive branch, the universal symbol of peace. This crystal ornament is etched and dated by our own craftsmen, and it's available in a limited edition. During our Pre-Holiday Sale, it's an especially great buy at $25.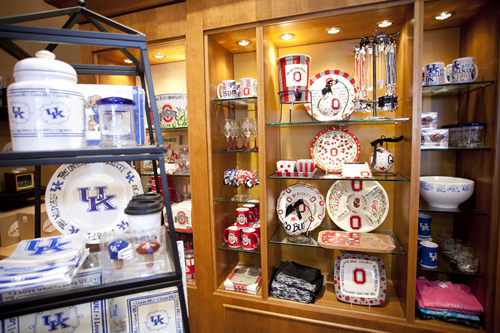 For the local sports fan. With college and pro football in full swing throughout the season, why not a gift that lets your recipient flaunt his fandom? We have a great assortment of fun and well-priced gift-ables for Kentucky, Ohio State and Bengals fans.
For the hostess. New this season, we've introduced a new collection of absolutely stunning, USA-made serveware in hand-forged mixed metals from designer Wendell August. These beautifully textured pieces, in snowflake, evergreen and poinsettia patterns, would make for a memorable gift that's used for years to come.
For your BFF. Commemorate a vacation, girlfriend weekend or special occasion among friends from 2012 by giving your bestie a framed photo.
For the animal lover. Have you seen the collection of animal accessories from hot designer Jonathan Adler? Contemporary in design, with great texture and matte finishes, these charming pieces capture animal figures like porcupines, fish, giraffes, monkeys and more. The collection ranges from cute salt-and-pepper sets to bookends to wonderful sculptural pieces.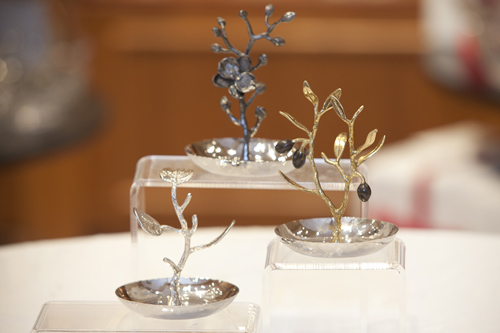 For the newly engaged. We all know that holiday time is the popular occasion for marriage proposals, so you'll want to be on the lookout for memorable gifts for newly engaged brides-to-be. We're captivated by designer Michael Aram's delicate ring holders, in mixed metal with botanical themes.
For your 'nutty' family. We're not sure where the tradition started, but it seems like a must to have a bowl of in-the-shell nuts and a fancy nutcracker on the table during holiday gatherings. Go a little fancier with your presentation: Nambé's handcarved wooden bowl with silver nutcracker (and a bag of unshelled mixed nuts) make a fantastic seasonal gift.
For the traditionalist. Everyone loves holiday-themed dinnerware for entertaining, and Juliska (one of our favorite vendors) offers a lovely, not-too-Christmasy collection that features winter scenes illustrated in deep red on stoneware. Juliska's holiday Country Estate line includes a set of 4 party plates that makes a wonderful gift.
Start planning your holiday gift-giving now, and be sure to visit our Kenwood Towne Centre store for our can't-miss Annual Pre-Holiday Sale from November 5 to 18. You'll find unique and memorable gifts at great prices for everyone on your list!
Over the past decade, Halloween has gone from kids and candy to a major fall entertaining event. Other holidays on the calendar are marked by religious or patriotic observances. But Halloween is—let's face it—just an excuse for throwing a great party.
Now that trick-or-treat candy is stocked on grocery shelves and costume stores are popping up, it's time to plan your Halloween decor and entertaining. As the holiday has evolved, decorations have become more creative and more sophisticated. At our Kenwood Towne Center store, we have a wide range of Halloween accessories you'll love, whether your taste is spooky-scary or a little more luxe.
Here are our top 5 Halloween decorating ideas for your home and table: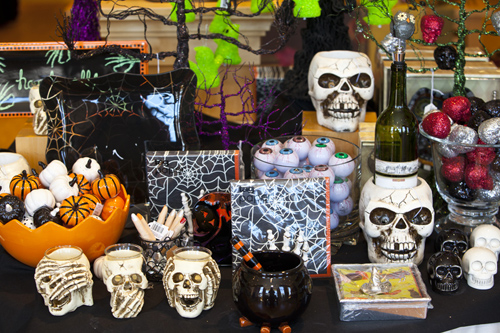 Skulls, bones and skeletons. Ever since the holiday's long-ago origins in All Hallow's Eve, which honored the recently departed, skeletons have been Halloween icons. For the past couple of years, skulls and skeletons have been trendy images in fashion and accessories. Skulls and skeletons can go from scary to kitschy to cute. Arrange three or five skull-shaped votive holders down the center of your table, or set one on each step of your staircase. Create a creepy mantel arrangement with lighted skulls and glow-in-the-dark pumpkins. Speaking of glow in the dark—that's in, in a big way. Phosphorescent accessories, including a collection of scowly-faced stepping stones for the garden, lend a fun, ghostly glow to your decor.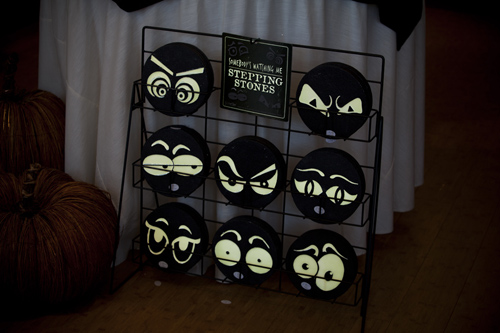 Unexpected frights. Look for creative ways to add scary elements to your party or home decor. Make a music playlist for your gathering, randomly inserting a couple of songs from old horror-movie soundtracks. Before you place that big bowl of popcorn or candy on your buffet table, tuck in a couple of freaky plastic eyeballs that your guests will encounter when they reach for a snack.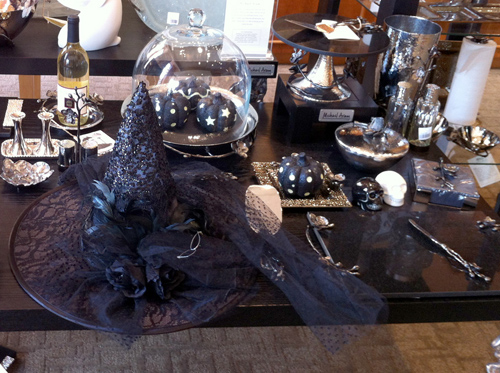 Harvest-themed decor. If Halloween isn't your thing, you can still get into the spirit of the season. After all, pumpkins, corn stalks and scarecrows have long been associated with October 31, since it falls during the harvest. This season, we're especially loving Beatriz Ball's gorgeous handmade metalware with a pumpkin/harvest theme. Serving pieces, table linens and entertaining accessories adorned with oak leaves, vines and pumpkins can easily transition to Thanksgiving.
Black, white and silver. Sure, orange is the hot color in decor this year (SEE HERE). But you can omit the orange and create a sophisticated palette for your home or party by blending black, white and silver. Set your table with black runners and napkins, then add shiny metallic serving pieces, black decorative pumpkins, black candles and skull votive holders. For a creepy centerpiece, coat tree branches with glossy black spray paint, arrange them in a tall metal vase and drape them with faux spider web (tuck in a fake spider for maximum effect).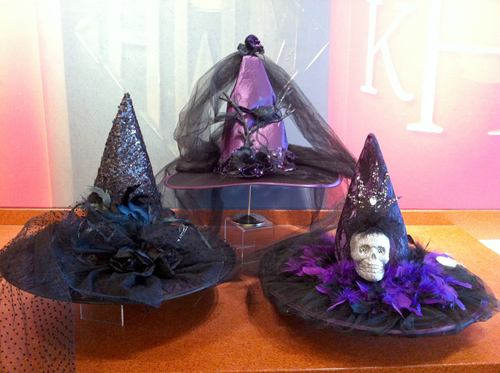 Fabulous fashions. Once you've tricked out your home, treat yourself to a fun accessory to wear on the big night. But don't worry: You don't have to shop for a complete costume. Our store manager and buyer, Linda Sacolick, brought in a line of glamorous witch's hats, and we expect them to be hot sellers this season. These high-topped, broad-brimmed beauties are decked out with black netting, fancy trims, and purple and silver accents. Tie on one of our flirty black-tulle aprons if you're the Kitchen Witch or Halloween Hostess. (Guys, you're on your own for costume ideas!)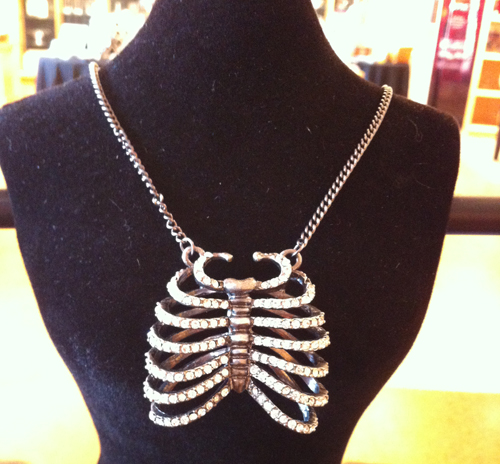 Stop in our Kenwood store for more fun and out-of-the-ordinary Halloween accessories for table and home. And mark your calendars now for our big Holiday Sale, which begins November 5.
Our monogrammed Seasons serving bowl and companion nappy bowl are perfect for salads—and they're our September monogram special. Enjoy 20% off the large (8 1/2-inch) and small (5 1/4-inch) versions of this classic style, now through the end of September.
Linda Sacolick, the manager of our Kenwood Towne Center store, has the enviable task of visiting national home and gift shows, where brands and manufacturers present their latest products to retail buyers. Several times each year, Linda heads out on buying trips where she scouts new trends in gifts and home decor and selects new items for the store.
(She tells us it's hard work, but we think she really enjoys her buying excursions!)
5 Trends in Home Decor—we love them, and we think you will, too!
If you're looking to update your living space or refresh your dining table with new linens and serving pieces for the coming season, here's what's in style now: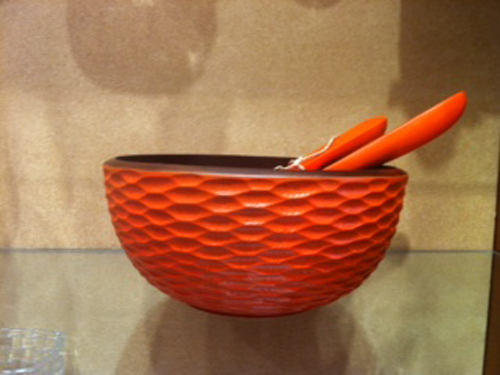 Color—According to the color experts at Pantone, 2012's color of the year is Tangerine Tango, an exotic but approachable orange. In Atlanta, Linda saw that trend in action, though she spotted softer, subtler shades of orange. Also trendy in the showrooms: bright blue accents used to complement neutral palettes of gray or sand.
Apply this trend at home: Add a pop of orange in the form of bright toss pillows on a neutral sofa. For the table, look for bold blue linens and napkins to contrast a dark wood tabletop.
Pattern—Fabrics and decorative items are being embellished with primitive-style patterns, a hot trend right now. Linda noted an emphasis on graphic patterns based on Native American or African motifs: zig-zags, diamonds, triangles and other geometric shapes repeating in rows or fields. Botanical patterns—florals, leaves and ferns—continue to be popular.
Apply this trend at home: Look for table linens or rugs with bold, geometrical designs. Bring nature indoors with pieces that have beautiful botanical shapes; Michael Aram's Botanical Leaf collection is a perfect example.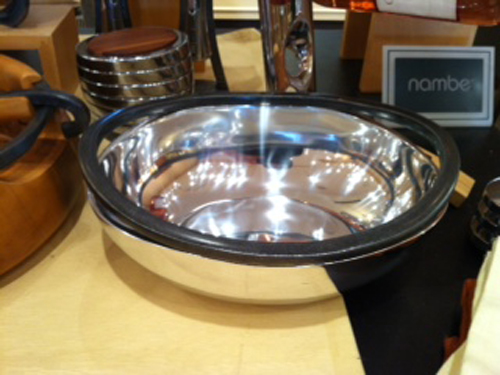 Finishes—Linda's showroom explorations revealed a big trend in shiny metallic and iridescent finishes. Many product designers are creating simple or traditional shapes—a classic bud vase, for example—and adding bright metallic finishes to give their pieces pop.
Apply this trend at home: A little shiny goes a long way, so look for accent pieces for home and table that bring on the bling.
Vintage—This trend just doesn't seem to be fading. Linda spotted a real design emphasis on mixing old and new. One of her big finds: vintage-looking pressed glass tableware in clear glass or jewel tones.
Apply this trend at home: Mixing family heirlooms and modern pieces is a great way to personalize your table. Get Grandma's silverware out of storage and use it with your modern china.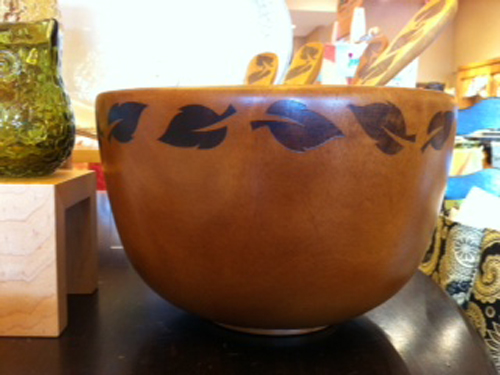 Green—Not the color, but the lifestyle. Think: recycled, remade, renewable. Glassware, serving pieces and decorative items made from sustainable materials like renewable wood or recycled glass are very popular.
Apply this trend at home: Mix "green" items into your decor or table setting. Look for coarse linens, wooden serving bowls, recycled glassware.
New products we love—and you will, too!
Of course, the whole point of Linda's trip was to bring beautiful and exciting new merchandise back to you, our customers in Cincinnati. Here's what you'll find in our Kenwood Towne Center store now and in the coming weeks:
An expanded line of pressed-glass dinner plates, salad plates and serving pieces from Juliska
Uniquely shaped, one-of-a-kind, hand-carved wooden pieces that look like art—but are, in fact, functional serving bowls and trays
Beautiful and durable (and very well-priced, too) bamboo serving pieces
Mixed-material designs, like pretty ceramic serving trays with metallic accents, and wooden salad sets with metal trim
New collections from top manufacturers. We're loving Michael Aram's Gourd collection, with gorgeous vining shapes in bronze and wood. Mariposa's glimmery-shimmery enameled metal serving pieces are perfect for fall entertaining. And Nambé has introduced a collection of kitchen items that are so pretty you'll love to use them.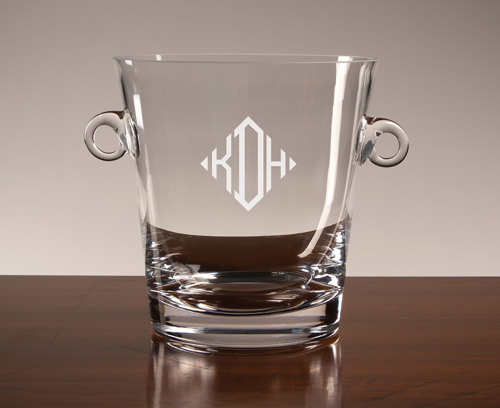 Come by the store to browse our new selections and chat with Linda about this season's home decorating trends. And be sure to check out our August special offer: 20% off two different sizes of our classic monogrammed crystal ice bucket—it's perfect for late-summer entertaining!
Serving different wines in different glasses isn't just a bunch of wine snobbery—there's good reason to be particular about your stemware.
Even casual wine drinkers know that much of their enjoyment comes from a wine's aroma—scents of wood or fruit or citrus that hit your nose even before you take a sip. Wine glasses of differing shapes help focus and concentrate those lovely aromas, enhancing the experience of tasting the wine.
Wine experts recommend having three sets of wine glasses: one for sparkling wine, one for white wines and one for reds. Monogrammed glassware can lend a personal touch to your entertaining; cut-crystal stemware makes an elegant statement on a dining table.
Sparkling wine glasses—the flute is the preferred shape nowadays, though the shallow, saucer-like coupe style was popular through the 1960s. The flute, with its narrow opening, creates a smaller surface area for the wine, which increases the bubbly sensation you enjoy when you take a sip. Coupe glasses are today more likely to be used for serving cocktails than for serving Champagne.
White wine glasses—Chardonnay, Sauvignon Blanc, Pinot Grigio and other white wines are typically served in glasses that are smaller than those used for red wines, with a slimmer shape and narrower opening. This style preserves a wine's crisp flavor by reducing oxidation (the interaction of air with the wine, which can subtly alter flavor and aroma).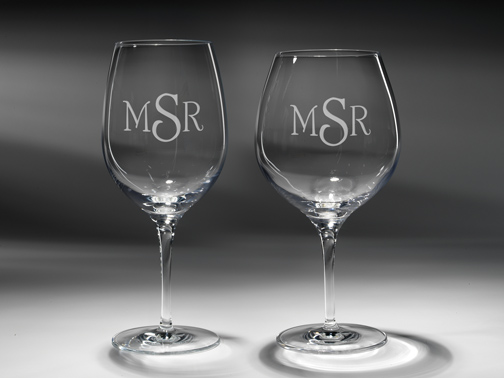 Red wine glasses—Bold wines like Cabernet Sauvignon, Zinfandel and Shiraz often benefit from that oxidation process. It's similar to the effect produced when a wine is decanted, or transferred from its bottle to a glass or crystal vessel for serving: The wine's sharp edges are softened, its flavor mellowed a bit. For red wines, choose large-bowled glasses with wider mouths, which allow those big, spicy wines to breathe.
Other wine glasses—If you'd like to expand your repertoire, consider these options:
While connoisseurs prefer to hold a glass by its stem to prevent the warmth of the hand from raising the wine's temperature, stemless glasses are popular and great for casual entertaining. Short-stemmed brandy snifters are used for fortified wines and cocktails. Serve after-dinner drinks in petite cordial glasses. Dessert wines are often served in glasses that are between white-wine and cordial in size.
Visit our Kenwood Towne Center store or shop online to see our entire collection of wine glasses, including our own exclusive Reserve Stemware collection, which features high design style at an excellent value. You'll also find Riedel's Vinum line and the 'O' stemless line, as well as Waterford Crystal and our made-to-order monogrammed stemware. (HERE)
Check Out Our Summer Clearance in July!
Looking for beautiful stemware? Be sure to stop in our Kenwood Towne Center store and browse our annual Summer Clearance Sale, which runs from July 20 through 29.
Our Summer Clearance Sale is a can't-miss event, with discounts of 40% to 75% on items in all departments throughout the store—including crystal and glass stemware and barware, jewelry, decorative items like vases and bowls, linens, serving pieces in ceramic, metal and glass.
The sale features seasonal collections from our most important brands, items for the home and patio, trend merchandise, plus unique and one-of-a-kind treasures you won't find anywhere else. Come in and discover great deals on fun, unexpected items you just can't live without!
July Monogram Special
Save on two sizes of our classic, hand-crafted crystal pitcher—perfect for summer entertaining!
As busy as summer is, it brings along lots of occasions for gift-giving: birthdays, weddings, graduations, showers and festive get-togethers where a little thank-you for the hostess is appropriate.
What's better than a gift that the recipient loves? One that's just as fun to give, of course. And that means putting together two or three items that are meaningful and memorable, and packaging them in an interesting way. We've collected some of our favorite gift ideas, perfect for giving this summer or all year round: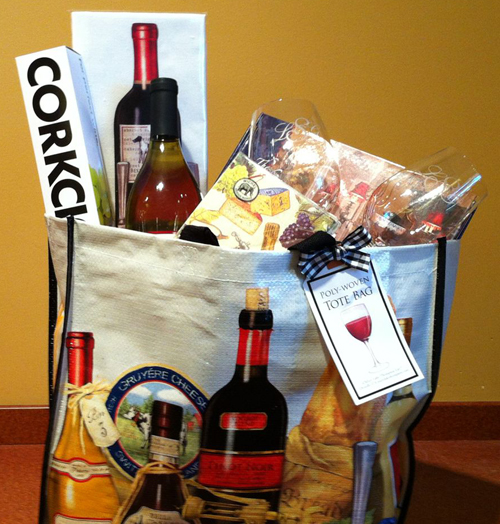 For the wine lover: Sure, you could give a nice Cabernet. But why not wrap up with another fun wine-related item or two, like a flour-sack kitchen towel printed with a wine bottle image, cocktail napkins, a pair of monogrammed Reidel glasses and the Corkcicle (a clever gizmo that inserts into a bottle of white wine to keep it chilled). A themed gift bag makes the perfect container.
For the optimist: Have a friend who makes lemonade out of life's lemons? Encourage her sunny outlook with a wonderful themed gift that pairs a painted pitcher with Juliska's citrus juicer and a printed kitchen towel.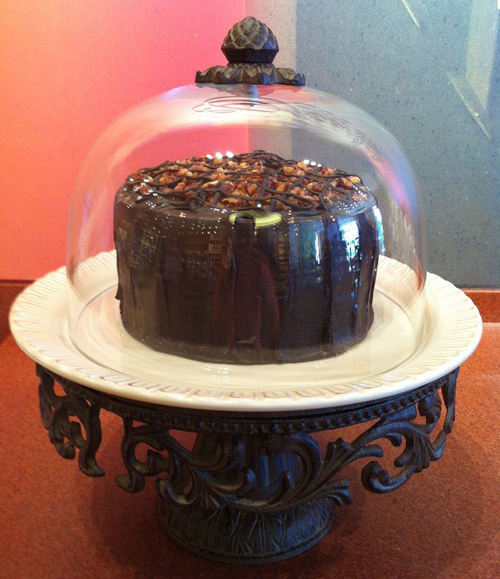 For the sweets fan: Got a cake/pie/cookie lover on your gift list? Then present a beautiful bakery cake or batch of homemade cookies, along with a pretty cake stand (we like GG Collection's glass-domed, filigreed version) that looks great well after the sweets are gone.
For the cook: What home cook doesn't love kitchen items that are both functional and attractive? Our cute flour-sack towel that's printed with a cake recipe goes perfectly with a baking-themed mixing bowl and matching measuring pitcher. Add some printed napkins and a fancy boxed cake mix to complete the gift.
For the bride and groom to be: This would be perfect to take to a his-and-hers shower: Help the couple put a personal touch on their big day with a set of hand-painted toasting flutes. For a more elaborate gift, you could pair the flutes with a Classic Pearled picture frame from Ashleigh Manor and/or a cake knife and server with crystal accents.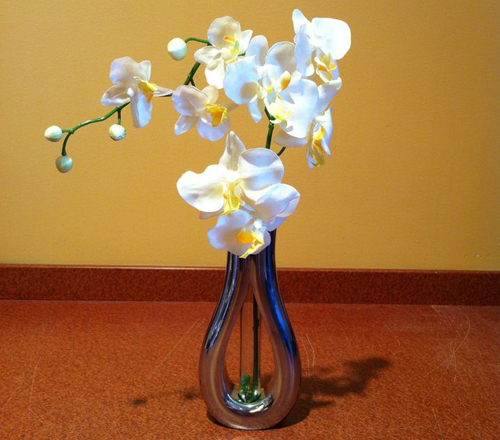 For the hostess: Share your thanks for a dinner gathering or pool party with an easy gift the hostess will use and remember. A simple bud vase, in sophisticated metal or classic cut-crystal, is always appropriate (and at a great price point, too). If your hosts embrace the 'green' lifestyle, then a set of tumblers made of recycled wine bottles make a great thank-you.
For the tea lover: Accompany an assortment of loose teas with a stoneware pot (we're partial to Juliska's amply sized teapot) and a pair of coordinating cups. You can accessorize the gift with a contemporary-style infuser and a unique sugar bowl, like the one in Michael Aram's stainless Sleepy Hollow collection.
For the newborn: Babies inspire the best gift ideas! We love grouping several small mementos, like a bank (a cheerfully hand-painted piggy or a charming silverplate teddy-bear) along with a simple frame or adorable handprint keepsake.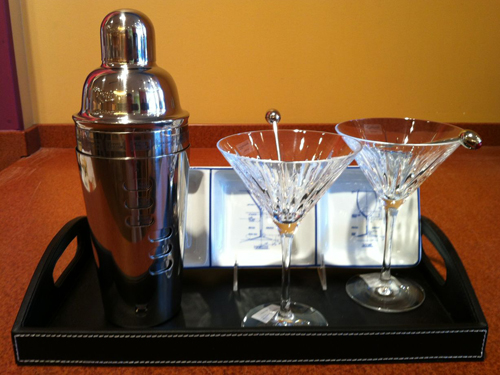 For the cocktail enthusiast: Our fantastic cocktail shaker has a handy built-in recipe guide for all the classic drinks. Pair that with a leather serving tray, a trio snack server and, of course, two martini glasses (we love Miller Rogaska's mouth-blown crystal glasses, which come with silver-plated olive picks).
Looking for more great gift ideas? Stop by Sterling Cut Glass at Kenwood Towne Center or visit us online (HERE) to find terrific give-ables in all price ranges. We love helping customers assemble the perfect gift.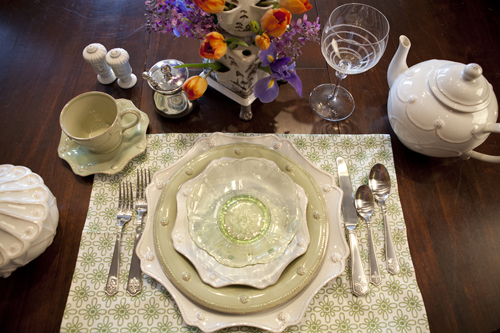 Page through any shelter magazine or browse any home decor website these days, and you'll see the current decorating trend. Out: go-together furniture sets and matchy-matchy fabrics: In: mixed-up styles and eras.
Who'd have thought that funky vintage chrome chairs would work with a heavy farmhouse-style dining table? And yet, there they are in House Beautiful. Martha Stewart Living's latest issue shows bold color-block palettes. A dining room pictured in Veranda features rustic wood furniture in a room adorned with delicate hand-painted wallpaper. This trend toward eclectic combinations lets you express your own taste—and since all the traditional rules have been tossed out the window, there's no wrong way to decorate.
You can adapt this anything-goes approach to creating a beautiful table setting for family dinners or for entertaining. Today's mix-and-match style lets you find everyday uses for items you'd otherwise save for special occasions; you can mix fine china and casual linens, and use the "good" crystal with informal dishware. Here are 4 ways to celebrate your unique style:
Mix color and pattern. You can create eye-catching place-settings for a sit-down dinner party by stacking plates in different shapes for multiple courses. Make sure the colors of your dishware are complementary so things don't get too busy. (Juliska ceramics, with their great array of shapes and patterns in colors that work well together, make this style easy to pull off.) Another approach: Mix table linens in boldly different patterns with dishes in a single color. Or keep everything on the table neutral—simple Reidel crystal stemware, off-white dishes (we love Simon Pearce's rustic stoneware), natural linens—and add a pop of color with a glorious floral centerpiece or a bold tablecloth.
Looking for more great tabletop ideas? Stop by Sterling Cut Glass at Kenwood Towne Center or visit us online www.sterlingcutglass.com to see the latest pieces for dining and entertaining, and let us show you how to create your own style.
As the home magazines show, it's fun to blend antiques and modern pieces, and at the table, this approach offers a great opportunity to use family heirlooms. Express your distinctive style by mixing patterns in stemware and flatware, so each guest has a unique placesetting. Create interest by contrasting high/low or fancy/rustic styles, like pairing intricate cut-crystal stemware with coarse linen napkins. Or use vintage silver with new dishware; we like the combination of ornately patterned sterling flatware alongside Juliska's simply styled place-settings.
Looking for more great tabletop ideas? Stop by Sterling Cut Glass at Kenwood Towne Center or visit us online www.sterlingcutglass.com to see the latest pieces for dining and entertaining, and let us show you how to create your own style.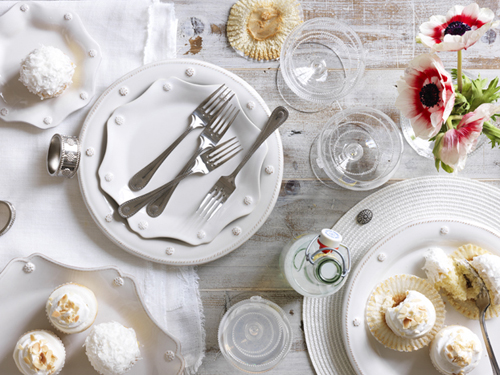 Two things to keep in mind: drama and contrast. Fill a dramatically large vase with graceful long-stemmed flowers, and surround it with petite votive candles. We love the look of Nachtmann's crystal vase in a basketweave pattern, nearly 12 inches high, with a bouquet of tall bird of paradise blossoms. Think of using a crystal cake stand to elevate a floral centerpiece off the table. Or pair candleholders and tapers in contrasting heights: Place slender 4-inch pillars in dramatically oversized candlesticks, or stunning 36-inch tapers in heavy, low holders.
Looking for more great tabletop ideas? Stop by Sterling Cut Glass at Kenwood Towne Center or visit us online www.sterlingcutglass.com to see the latest pieces for dining and entertaining, and let us show you how to create your own style.
Skip the tablecloth, and place fine china and cut crystal stemware directly on the table—the rich, dark wood presents an elegant contrast that lets the table setting really shine. For a themed party, add natural elements to your table decor. For example, start with Juliska dishware and arrange vintage hand tools to create a pretty look for a garden party; tie plain linen napkins with ribbons of jute twine. Also in the mixed-materials category: Nambé has a great selection of serving bowls and trays that pair rich wood and polished metal; these pieces bring visual interest to a buffet or array of hors d'oeuvres.

Looking for more great tabletop ideas? Stop by Sterling Cut Glass at Kenwood Towne Center or visit us online www.sterlingcutglass.com to see the latest pieces for dining and entertaining, and let us show you how to create your own style.
During June, you'll enjoy 20% off our monogrammed chip-and-dip set. It's perfect for summer entertaining! Visit our store or order online HERE.