Begin your love affair with Juliska's gorgeous stoneware dishes in complementary colors, patterns and finishes, including the classic Berry and Thread design. Through June, purchase seven 5-piece placesettings and receive the eighth placesetting free. Come in to the store to see all our Juliska products, including the scenic Country Estate pattern, plus jewel-toned glassware and exquisite mouth-blown glass serving pieces. Or, view the collection online HERE.
You can create eye-catching place-settings for a sit-down dinner party by stacking plates in different shapes for multiple courses. Make sure the colors of your dishware are complementary so things don't get too busy. (Juliska ceramics, with their great array of shapes and patterns in colors that work well together, make this style easy to pull off.) Another approach: Mix table linens in boldly different patterns with dishes in a single color. Or keep everything on the table neutral—simple Reidel crystal stemware, off-white dishes (we love Simon Pearce's rustic stoneware), natural linens—and add a pop of color with a glorious floral centerpiece or a bold tablecloth.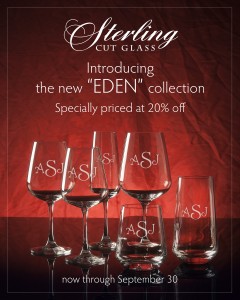 1. String Lights or Paper Lanterns
You don't have to deal with the mess of tiki torches to create a warm ambiance. Instead, frame your best outdoor views with string lights or paper lanterns that can range from whimsical to contemporary to sophisticated. They're affordable and easy.
They also make a smooth transition from the indoors and help define the outdoor dining area, says Stephanie Grotta, lead designer for Target Corp.'s Smith & Hawken line.
"You really want to create that intimate environment," she says.
-
-
2. Outdoor Throw PillowsProvide plenty of seating, and dress it up or tie together mix-and-match pieces by piling on colorful throw pillows. The trend is to "make the outdoors as comfortable as your living room," says Leigh Oshirak with Pottery Barn Brands.
Use bold patterns, including thick stripes, geometric designs and Indian-inspired florals. Or make your mark with monogramming. Since just about any eye-catching color is in this summer, go with the one you like best or add to what you've already got.
-
-
3. Mister and Fire Bowl
When you're expecting high temperatures, don't just set up fans. Rent, borrow or buy a mister to help tame the heat. You can also find inexpensive kits to turn your garden hose into an effective mister.
If the evening air cools quickly, a fire element will make your outdoor space cozy. Choose from wrought-iron lanterns, fire bowls and rings, or a chiminea. Prepackaged outdoor fire logs only require striking a match. An added bonus: Guests can get campy and roast marshmallows or hot dogs.
-
-
4. Insect Repellent
Put away the sticky sprays, and provide guests with wearable insect-repelling items such as bracelets and belt clips. For kids and the young at heart, there are stickers available in fun shapes, including hearts, flowers, dinosaurs and, of course, insects. They'll help protect from pests without leaving residue on skin and clothes.
-
-
5. Grilling Pizza Stone
Want to make eating alfresco a little easier? Prepare pizza dough beforehand and use a grilling pizza stone on your barbecue. Allow guests to add sauces, slices of fresh summer veggies and grilled meats.
Myra Adkins, general manager of Word of Mouth Catering in Austin, Texas, says portable food like pizza "helps break the ice if it's a group of folks who don't know each other."
-
-
Give yourself even more party time by setting up a drink station where guests can serve themselves. Many department stores offer plastic and glass dispensers in various shapes and sizes. Add slices of lemon, lime and orange to ice water, or frozen berries to adult drinks for added color and flavor.
-
-
7. Pie Stand
Foodies are calling this "The Year of the Pie," so break out your pie tin and use a decorative rack or stand to serve up this all-American favorite. Try seasonal fruits for a classic pie, or get nostalgic with a s'mores pie. For something more elegant, try a raspberry cheesecake pie or a white chocolate banana creme pie. Whipping up a meringue or offering any slice a la mode makes it an even cooler treat.
-
-
8. Party Playlist
Find out beforehand what type of music your guests enjoy and download their favorite tunes. It's a mood setter and a conversation starter.
If you don't want to compile your own music, try a movie soundtrack or best-hits CD. That will provide smooth transitions between songs and bring back memories.
-
-
9. Personal Comfort Items
Think "washroom attendant's table" for the outdoors. Offer a small table of essential summer items, including sunscreen, lip balm, fresh wipes, hand sanitizer and insect repellents. At the end of the evening, set out bottled water for guests to grab for the ride home.
Tina Hayes, founder of the School of Etiquette and Decorum in Antioch, Calif., says planning for comfort is just as important as preparing the meal.
"From the initial greeting at the door to the last goodbye, all should feel welcomed, comfortable and relaxed," she says.
-
-
10. Party Favors
For an even more memorable event, hand out small gifts that guests can use at the party and then take with them. Inexpensive favors can include insulated bottle and can holders, flip flops, colorful paper fans for the ladies and tiny, battery-operated fans for the men. Or give guests a CD of that great playlist you put together. For special occasions such as the Fourth of July, treat guests to sparklers.
Article Compliments of ACCENTRAL.COM
Father's Day, contrary to popular misconception, was not established as a holiday in order to help greeting card manufacturers sell more cards.
Mrs. John B. Dodd, of Washington, first proposed the idea of a "father's day" in 1909. Mrs. Dodd wanted a special day to honor her father, William Smart. William Smart, a Civil War veteran, was widowed when his wife (Mrs. Dodd's mother) died in childbirth with their sixth child. Mr. Smart was left to raise the newborn and his other five children by himself on a rural farm in eastern Washington state. It was after Mrs. Dodd became an adult that she realized the strength and selflessness her father had shown in raising his children as a single parent.
The first Father's Day was observed on June 19, 1910 in Spokane Washington.
At about the same time in various towns and cities across American other people were beginning to celebrate a "father's day.".
In 1924 President Calvin Coolidge supported the idea of a national Father's Day. Finally in 1966 President Lyndon Johnson signed a presidential proclamation declaring the 3rd Sunday of June as Father's Day.
Father's Day has become a day to not only honor your father, but all men who act as a father figure. Stepfathers, uncles, grandfathers, and adult male friends are all honored on Father's Day.
-
The biggest day in your life is coming faster than you realize and you need to be ready for every little detail.   Below we've listed a quick reference guide from Cincinnati Bride & Groom Planner 2001 Volume I.  Stay tuned from more great tips from this wedding guide and I highly suggest you pick up a copy of this guide.
Bride's Checklist
6 to 12 months before:
-Set a date and time for the wedding
-Determine the size and degree of formality of your wedding
-Discuss expenses with all concerned and make a preliminary budget
-Interview and hire a wedding consultant if you plan to use one.
- Make a guest list and begin compiling addresses.
-Reserve the site for the wedding.  Retain the offciant to perform the ceremony.
-Select Bridal attendants and inform them of all pertinent dates.
-Plan the reception.  Book the location and begin to research and select wedding professionals such as the florist, caterer, cake baker and musicians.
-Research and select a photographer and videographer.  Have engagement photos taken if desired and an announcement put in the newspaper.
-Shop for wedding gown and accessories and bridesmaids dresses.
-Consult with groom on men's wedding attire.
-Have invitations and personal stationery designed and printed.
-Begin planning honeymoon with fiance.
-Begin house or apartment hunting.
-Call to schedule dance lessons.
-Search for a salon/span you are comfortable with.
-Decide on hairstyle and show your stylist your ideas.  Make sure that their time and yours are not conflicting the day of your wedding.
-Shop for wedding rings.  Allow time to have them engraved, if engraved.
Next month we'll talk about what you need to watch out for 3-6 months before the wedding.  But of course you know we don't want you to neglect your registry.  Generally you should register for your wedding 4 – 6 months prior to your wedding date but it's perfectly acceptable to register shortly after you're engaged.  There'll be lots of engagement parties, showers, and events that friends and family will want to bring a gift to.   Check you registry frequently to make additions or delete discontinued items.  When you take time to manage your registry you'll make the gift giving easy and fun for your guests.   Remember to keep in mind your guest's budget when registering.   Most important for a comprehensive and cohesive wedding registry go to a store that specializes in registering brides and have an expert guide you through the process.  Don't forget – bring the fiancé along.
Most entrepreneurs do not consider recognition a central part of their management practices. But let's get personal about this and talk about you. I bet you don't budget an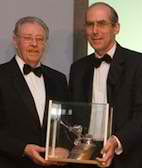 extra 3 percent on top of your payroll costs for employee rewards, awards, celebrations and gifts, for example, yet that is the goal of many of the recognition specialists I met from large firms.
Is this a luxury for companies that can afford to waste money? I don't think so. In fact, I think there are many profitable returns from an emphasis on recognition. It probably costs us not to do it. Here are some ideas I brought back from my experience at NAER that I think can apply in every workplace, no matter the size or budget:
1. If you recognize and make a bit of a fuss about the good things employees do, then you will find yourself spending a lot less time worrying about the bad things they do. They will do less of the negative, and they will strive to do more of the positive things you are recognizing. It is far, far easier to lead people to improved performances by thanking them when they do it right than giving them "grief" (I was tempted by another word there actually) when they do it wrong.
2. There are important milestones and accomplishments in the life of 
yourbusiness
. Mark them! Have a party. Take a moment to celebrate. Recharge your own and your employees' batteries. It is too easy to get so caught up in the daily struggle that you never stop to recognize the good work you do.
3. Praise and recognize your star performers. Some of your recognition budget (however large or small) should certainly go toward spotlighting role model performances and role model employees. This makes them feel good, encouraging them to stay on board and keep trying hard. And it gives everyone a bit of inspiration and a clearer idea of what you want employees to shoot for. (If you search, you can find many resources for recognition products and ideas; for instance, I love the assortment onwww.baudville.com.)
4. Recognize good effort, not just results. When employees have had a tough week, throw a mini party for them. Bring in some pizza, a cheesecake or whatever inspires you
, and share it with your crew. Or try writing a personal thank-you card to each employee–maybe picking out a different design for each and having some fun recognizing individuals in your selection. You help the marathon runner the most by offering encouragement and nourishment along the track, not just by waiting at the finish line with a trophy. Recognizing effort has a bigger impact than giving a prize at the end of the race. Same goes for employees, who are in a race every day.
Every day, millions of people throw their hearts into their work. They want to succeed. They want their work to be appreciated and their efforts to be recognized. When we remember to take care of these very human needs for recognition and appreciation and the occasional round of applause, we do a great deal to create the vital, energized workplace we need in order to succeed in today's challenging world of business.
---
Alex Hiam is a trainer and consultant and the author of
Motivating & Rewarding Employees: New and Better Ways to Inspire Your People
as well as
Marketing for Dummies
. 
His new book,
Making Horses Drink
, 
is now available from Entrepreneur Press and major bookstores.