5 Ways to Create Fabulous Family Dinners
With fall upon us, your family's probably settled into a weekly routine of school, sports, work and activities. Ever feel so overprogrammed or overwhelmed that the thought of gathering the family for dinner — all of them, all at once — seems impossible?

You know how meaningful family meals are. Here's the good news: Americans are getting better at this. According to a report released in November 2010 by the American Dietetic Association, 73% of families surveyed eat together every day, up from 52% in 2003.

Still, making time to plan, prepare and actually eat a meal together can be challenging. Since we love the idea of gathering the clan around a beautiful table and sharing good food, we wanted to suggest some ways to make it easier.
MAKE IT A PRIORITY
Dinnertime is when everyone can take a breath after a busy day. Start by choosing one day a week when you can commit to eating dinner together. Put it on the family calendar. Expect that everyone will be there, no excuses.
MAKE THE TIME
That hour around the dinner table is crucial for parents and spouses. Kids open up about what happened during their day. Partners can have meaningful conversations. Studies have shown a correlation between family meals and kids' mental and physical well-being — primarily because it's a stress-free opportunity for kids and parents to talk. So carve out at least 45 minutes for dinner. Set a nice table. And turn off the TV.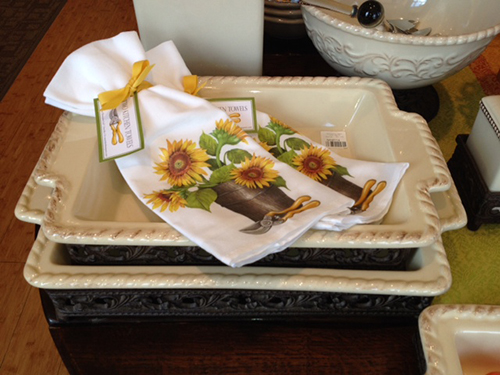 MAKE PREP EASY
Cooking dinner is time-consuming. Make it easier by planning a full week at a time, shopping just once a week and creating menus that provide leftovers that can be used in a different way. For example, one night's grilled steak becomes the next night's steak salad. Casseroles are super easy to make ahead. We love the baking dishes from GG Collection and from Mariposa, which go from oven to table in style. A big pot of soup is another in-advance, multi-meal option. We carry individual soup crocks from Juliska that turn veggie soup or chili into a meal.
MAKE IT SPECIAL
Create an atmosphere of specialness around family dinner, so no one wants to miss it. Bring out the good china on a Wednesday evening. Roast a chicken (easy to do, and pretty impressive) and serve it on a big platter — we like the wooden version by Chubco or the beautiful turkey platter by Juliska. Light candles. Use linen napkins.
MAKE IT COLLABORATIVE
Invite younger kids to help plan dinner menus and older kids to help prepare the food. Making a salad is a super kid-friendly kitchen task, especially when you have them tear lettuce and slice tomatoes into a big Nambe wooden salad bowl. Getting kids involved is a great way to teach them to respect food and to learn to cook.
Stop by our Kenwood Towne Centre store, and our associates can help you find new accessories you can add to your existing tableware to make family dinners a little more fun and special.
Stop into our Kenwood Towne Centre store and let our sales team show you the latest trend items for late summer and fall!
OCTOBER MONOGRAM SPECIAL:
THE SOPHISTICATE WINE DECANTER
Red wines — especially bold, complex ones — improve in flavor when they're decanted before serving. Our Sophisticate decanter is classically stylish — and it's a great way to serve water or iced tea for family meals, just for fun! In October, choose your monogram style and take 30% off.